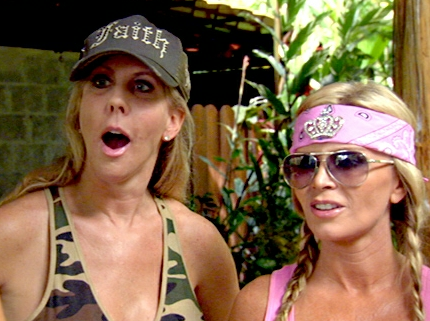 by Gina Scarpa
This week on The Real Housewives of Orange County, Tamra and Eddie head to dinner with Heather and Terry and she admits that she let Alexis know that Terry called her fake. As if things won't be awkward enough in Costa Rica, Tamra and Heather want to have an invention with Alexis, because she constantly acts fake and materialistic.
As each of the girls pack for the trip, it becomes more ridiculous when you look at what they're packing. They have their "friends" (or personal assistants) in tow to help them plan out their outfits. It's a vacation... oh wait, there are cameras. What am I thinking? Gretchen, in particular, has a tough time packing but I think that she's more frustrated with Slade ever since he blamed her for distracting him from handling his debt and child support. I'm still taking deep breaths from that one.
In Costa Rica, Vicki immediately gets on her phone to talk to Brooks then pretends to melt down again about Brianna. Thank God for Heather who yells at her to "get over it"! Since they arrived late, nothing is planned until the next morning, when the group goes ziplining. On the way, Vicki tries to play the alphabet game ("I'm going on a picnic and I'm bringing apples, bananas, coconuts...") but in a sexual way, which is totally unlike her. Meanwhile, at the ziplining tour, Alexis flirts with the guide, pretends to be overly scared, then brags that she's done this before. Who can keep up with her?
During the ziplining, Vicki keeps having outbursts - breaking into song, acting upset about her daughter's marriage AGAIN, and crying after Tamra calls her a hypocrite for her sexual talk, when she constantly tells everyone else not to use that language. At dinner afterwards, Vicki tries singing for everyone again and the ladies have no idea why she's acting so strange... and neither do I!
Gretchen is unusually quiet, which she says is because she's never spent so much time away from Slade. She should consider doing it more often. Perhaps a lifetime, maybe? Finally, the white elephant in the room is brought up. Alexis mentions that Terry called her fake, and everyone jumps in to call her materialistic. Even Gretchen gets in on the fun, which Alexis does not appreciate. Tamra pushes her over the edge when she yells at her to be a true person, and Alexis calls her mean and hateful.
The fighting continues next week in Costa Rica... are you Team Alexis or Team Tamra?
The Real Housewives of Orange County airs Tuesdays at 9/8c on Bravo.
(Image courtesy of Bravo)

Follow Gina @ginascarpa and "Like" her on Facebook!