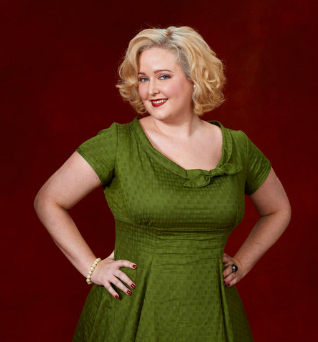 by Todd Betzold
Mold in Katrina Parker's apartment got her sick and kept her from singing for two years. After three years of not being onstage, she made her way back up there for the blind auditions of The Voice. Nerves did get to her, but they weren't enough to keep Adam from turning around and Katrina joining Team Adam. She defeated Angel Taylor last week in the battle rounds and now is preparing herself for the live shows. Today, she talked with RealityWanted in an exclusive interview about her fan-girl moment, a message to her fans and much more.
Q. Todd, RealityWanted: What made you want to try out for The Voice?
A. Katrina: I had a friend that put a big in my ear and I kinda laughed him off at first. You know, I'm not an on-camera type person...this isn't for me and he asked again a week later and I said no and he asked again a week later and I said maybe I should do this. I watched part of the first season and was so impressed with the coaches and the whole set-up of the show. I, at that point, knew that I was supposed to audition. I knew if I was supposed to go further, I would. Whatever happens was going to happen and I have to give it a shot because I didn't know if it was going to come around again, so going into it I was skeptical about going further but I got pretty lucky and here I am.
Q. Todd, RealityWanted: You had gotten sick from a mold problem at your apartment and were not able to sing for two years. What has this experience been like to go from not being able to sing to now singing front and center on The Voice?
A. Katrina: It's pretty crazy...it happened pretty quickly. I just started singing again a few months prior and I was kind of dipping my toes in the water a little bit and to go straight from that to this it was incredible. Actually, for the entire blind audition I was terrified and I had a really hard time getting past that kind of fear and doing something I hadn't done in so long and doing it on this scale. Before I got sick when I was still singing, I was doing little bars and clubs and cabarets...it was nothing on this level, so it was pretty terrifying to get up there and be doing it again. It wasn't until the battle that I really started to let myself enjoy it and not being so terrified of it.
Q. Todd, RealityWanted: What has it been like working with Adam as a coach?
A. Katrina: Adam is amazing...he wants to win and that's totally beneficial for every one of us on his team...he wants us to win. Everything he says, he says for a reason...there's no throwaways for the camera...everything is intentional. He's grooming us in every way that he can to be our best on stage and I really like that. I like that he doesn't dance around the heart of the matter, he gets right to it. I feel like he's really good at taking a little bit of what you do and cutting through that and seeing what you should be doing and what you should be trying. For me, I feel like he is stretching me a little bit. I mean, "Bleeding Love," the battle song...that was a stretch for me and I feel that is really worked out well...clearly he knows what he is doing.
Q. Todd, RealityWanted: For the battle rounds Adam brought in Alanis Morissette as your mentor. What was that like working with her?
A. Katrina: I honestly don't think he could've picked a better advisor for me if he tried. When I walked in that room I was pretty shocked and I did have a fan-girl moment for quite a while. I'm glad they didn't show it all on camera because it was a little embarrassing...there was a lot of you're so pretty, you're so pretty and once I stopped that and we got down to it, it was really fun. "Jagged Little Pill" was such an amazing part of my life and as it was for a lot of people and I feel it really changed the face of music at that time, so to be in the same room as her, much less have her encouraging you...and to have her acknowledge that she gets nervous and what she does to get rid of it...it was pretty amazing. I listened to everything that she said, but I was also so giddy that all I could do was just smile. From Carson in my cubicle...I had a real fan-girl moment then to Adam to the coached to Alanis...it's overstimulation and I love it.
Q. Todd, RealityWanted: What are you most excited for with the live shows?
A. Katrina: I think what I am most excited about for the live shows it to be up there by yourself, not in the battle ring...that's going to be really cool. I think you just have this opportunity to show people what you're made of, more so than you have before that. We have more time, so I think there's going to be a lot more happening onstage. It's a chance for you to stretch your wings a little bit. I'm hoping I can stay out of my head and stop worrying about what's going to happen next and just live it and enjoy it and be present for it. I just feel the minute I stop doing that, I get more and more nervous.
Q. Todd, RealityWanted: Is there anything you want to say to your fans?
A. Katrina: Just that I'm always shocked when good things happen...I don't know where I got that mindset, but I'm always shocked. The amount of encouragement and kind words that I've gotten via Twitter, via comments...it's been incredible and it's so unexpected for me. I mean, thank god for Twitter, right? It's such a way for people to reach out to you directly and people have been very kind. Obviously everyone is not going to agree with the choice that Adam made and obviously not everyone's going to like what I do, but the people that do are very vocal and just knowing they are out there while I move forward...it totally motivates me and gives me the confidence I need to keep going. I want to stay longer for everyone who's in their cubicle...there's no other venue where I could do what I am doing and not be judged as much as this show.
The Voice airs Mondays at 8/7c on NBC.
(Image courtesy of NBC)
Follow Todd @tbetzold