by Gina Scarpa
Four years ago, Dan Gheesling overcame nominations for eviction and the (sometimes) curse of being named America's Player and won Big Brother 10. Since then, he's told his own success story in an online book and now, has written a second one to help the average person get on reality tv. Today, we caught up with Dan to find out about life since Big Brother, talk more about his book, and get some audition tips too!
Q. Gina, RealityWanted: What has life been like since winning Big Brother in 2008?
A. Dan: Five or six months ago, I got married so I'm very lucky! I'm a very lucky guy that she puts up with all my antics. Outside of that, I'm still teaching and coaching. We were able to win a state championship in football. Long story short, I started a blog unrelated to reality tv and would just post random stuff going on. I started getting the same question asked me over and over again: how did I get on reality tv? I thought I could put something together and help people. I'm just a normal guy who got a chance on reality tv. I'm not this great looking guy, I'm not an athlete, I'm just a regular guy. I wrote two books. The first book I wrote is "How A Normal Guy Got Cast On Reality TV", which is my personal story, the four years it took me, the rejections, and how I overcame it. I'm lucky, I never got a lot of negative feedback when I was on the show. There are people who wanna know my story but there's also people who wanna know how to get on reality tv.
Q. Gina, RealityWanted: During your season, you were America's Player and you were nominated for eviction a few times. How did you come back to win it all?
A. Dan: For me, I guess the best way to explain it is that I always had the goal in mind to win. No matter what was going on, if I was being called names, if there was fighting going on, I always kept that in the back of my mind. That helped me make decisions with a clear head. I was a big fan of the show and I still am. When I went back and watched all the seasons, I noticed the small handful of people who ended up winning but if you watch what they did, you didn't see them in a fight and they always kept their cool.
Q. Gina, RealityWanted: Have you watched Big Brother since your season and if so, do you ever find yourself yelling at your tv?
A. Dan: I definitely still watch it. I just watch it from a completely different perspective. I just watch and appreciate it for the chaos that it is. I understand the production aspect of it and I just watch it for the entertainment at this point.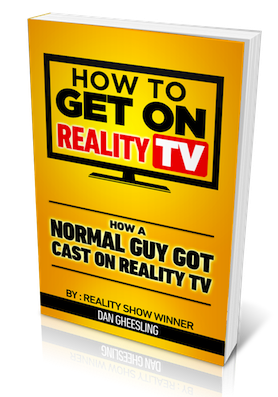 Q. Gina, RealityWanted: What is different about your advice and strategy for getting on reality tv than what we have perhaps heard before?
A. Dan: Before I even started applying for reality tv, I searched the internet for anything I could find about how to get on reality tv. Either there was nothing out there or it was a five minute interview or a ten page article about being yourself. I agree you have to be yourself, but there's so much more than that. I teach people that this is what you need to prepare for, this is what you need to listen for, this is how you need to act. Applying for a reality tv show is so out of the ordinary. For me, I had to go through the process for four years to get food at it.
Q. Gina, RealityWanted: What do you feel is the most common mistake people make when auditioning for reality tv?
A. Dan: I think one of the basic things everyone should do but don't do is have a story ready to tell about their life. People just go in and wing it and for some people, that works. That works for people who are dynamic or the life of the party, that works. But for me, someone who is a wallflower, I had to develop who I was and my story and really, my character hooks. Things that are true about me but I had to play them up a little bit because it would stoke someone's interest. People don't take time to develop that but you're selling yourself, your entire life, who you are, and how you act. The sad thing is that it takes a full year to apply the next time. You have to wait another year to do it if you don't make it. The point of the guide was to hopefully eliminate a lot of that time.
Q. Gina, RealityWanted: If you were to ever go on another reality show, which one do you feel fits you best?
A. Dan: For me, trying to decide what I would apply for is pretty simple. I love Survivor but I'm not a big outdoors guy. I like traveling but I don't like the aspect of getting in a plane and running around. If I were going to do something again, it would be like Big Brother. I really enjoyed it, it's one of the few games that's about mental warfare and mental chess.
Q. Gina, RealityWanted: How can people stay up to date with what you have going on?
A. Dan: I'm very active on Twitter. They can follow me @DanGheesling! If you're looking for more information about how to get on reality tv, you can go to my website, howtogetonrealitytv.net. There's a lot of free information on the site.

Big Brother returns this summer on CBS!
(Images courtesy of CBS and Dan Gheesling)

Follow Gina @ginascarpa and "Like" her on Facebook!