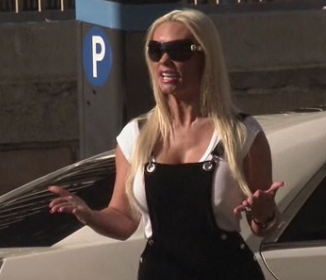 by Gina Scarpa
Ever since Coco has been diagnosed with high blood pressure, she knows that she needs to get healthy and lower her stress. Since Ice won't be much of a help given that he's housing Twinkies and cereal after midnight, she at least has kickboxing, which she really seems to enjoy. On the way home from a training session, Soulgee admits that he wants to learn to drive but is scared after he was shaken up in a go kart accident as a teenager. Of course, Coco volunteers to teach him to drive, which should be pretty comedic to watch.
First though, it's a trip to a nutritionist, who tells Coco that food needs to be a priority. Well, right now, she's eating hamburgers, hot dogs, fries, cookies, chocolate, soda, candy - if it's bad for you, she eats it! This is going to be a major adjustment. The nutritionist says that her kitchen needs a makeover and Ice is none too pleased when he hears about that. Do I see a tear as the Twinkies are thrown in the garbage?
Yay, it's finally time for a driving lesson. I don't think Coco quiets down for one minute: "Turn it back, turn it back, okay, alright, oh God, stop, stop, stop, STOP!" You can't blame her though. The man ran a stoplight and went through a intersection with a cop right nearby. The stress is too much for Soulgee, who gets out of the car for some air.
Soulgee agrees to try driving again, under one stipulation: a professional instructor teach him instead of Coco.  She's not about to go out without a fight though and climbs into the backseat to offer moral support.  By moral support, she means more advice and instruction as he's trying to drive the car.  By the end of this episode, I think Soulgee is going to suffer from high blood pressure, too!
Meanwhile, Ice isn't adjusting well to healthy eating.  He turns his nose up at just about everything in the organic section of the grocery store and doesn't seem to like anything she cooks at home.  This adjustment is way harder on him than it is on her - and he doesn't even NEED to do it!  That being said, Twinkies after midnight isn't a good idea for anyone.  One thing Ice can get on board with, though, is making sure that Soulgee learns to drive.  He tags along on a trip to get Soulgee back behind the wheel of a go kart.  It seems to do the trick because Soulgee is much more confident the next time we see him driving, and Coco has backed off a bit too.
Feeling that he has been supportive of the changes she needs to make, and given that he helped Soulgee too, Coco rewards Ice with his favorite dish: Coco Tacos.  Oh, he's in heaven!

Ice Loves Coco airs Sundays at 10:30/9:30c on E!
(Image courtesy of E! Online)

Follow Gina @ginascarpa and "Like" her on Facebook!