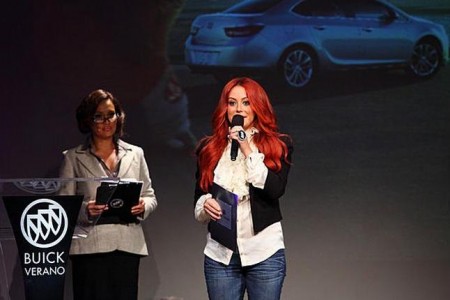 by Todd Betzold
Last week on The Celebrity Apprentice we had a task dealing with fashion, which favored the women. This week it is all about cars...does that mean it will favor the men?
Lou and Arsenio come back after George got fired and Lou is determined to prove himself, which Dee Snider says he should have been fired and he will crash and burn now. Then we get to see Dayana present the check from her victory last week to her charity, The Latino Commission on AIDS.
The task this week: create a 10-minute presentation and a 10-minute Q&A session with a live audience and online viewers for Buick's newest car, the Verano. The presentation needs to informative while entertaining and highlight four key features of the Buick. They will be judged on three criteria: informational content, brand messaging and overall creativity. They pick their project managers: the men pick Adam Carolla (shocking they didn't pick Michael Andretti) and the women pick Debbie Gibson. The winning project manager gets $20,000 from Trump and $30,000 from Buick, so $50,000 total.
The women meet to discuss ideas and Aubrey continues to shoot out ideas for the group...she always has ideas, but hasn't stepped up as a project manager yet. They met with the Buick people and Aubrey noticed they talked a lot about the feminine sides of the cars...she wants to run with that.
The men meet and Adam wants to be funny and do most of the work...the rest of the men want to make sure they highlight Michael and get him on the stage sometimes. They meet with the Buick guys and Adam seems to be turning them off with his comedy and the men get scared. Lou wants to come out as the Hulk and show off his muscles...the other men aren't having it.
The women are still throwing around ideas and nothing is getting figured out for them...too many cooks in the kitchen. For the men, Paul, Adam and Michael go for a test drive of the Buick and the men back at the apartment have nothing to do. They call Adam to try and get it figured out...they have no clue either. Adam is wanting more humor and the Buick guys didn't like that idea, so the other men are trying to steer away from that.
The women go to the test drive in two separate vans, with Aubrey saying the cool van has all the members who contribute to the project and she is always in the cool van and the other van has the leftovers. In the leftover van are Tia, Teresa and Dayana and they know they have no tasks and are getting frustrated.
Both teams get a chance to test drive it before going back to work on their game plans. Adam is going to have his other team members be hecklers during his presentation, which all the men don't like, but he is set in his ways. The women have no script and nothing on paper and the team seems split along the lines of who was in the cool van or not.
The men rehearse their presentation and it seems that Adam has 19 ½ minutes of the session dedicated to himself, so if they fail he will be going home it looks like. The women are trying to work on rehearsal, but no one even seems to know what is going on...Aubrey is not feeling it and thinks it's a Debbie Gibson comeback tour.
Day of the task and the teams arrive at their locations. The women are not prepared at all, seeming they have not done an official rehearsal. The women go through their presentation and Lisa and Debbie do well...Aubrey gets into her character very well and has some audience members tearing up, but then screws up by calling the car a Verona, not a Verano, and she does it twice. Then Teresa comes out and does an okay job. Now time for the Q&A and the first question was on safety ratings and they can't answer it. It was awkward at times, but the executives said at the end it was fun.
Now time for the men: Adam comes out and he claims he has so much energy that he is nervous. He pulls it together and starts throwing out the information on the car and the executives seem to like it. They bring out Michael Andretti and he endorses it, which is a big positive for their presentation. They start the heckling and the crowd seems to enjoy it at first, but then enter awkward...Paul just says over and over again that Adam sucks and then gets pulled away by Lou, who is a bodyguard. It was just awkward and weird and served no point. They didn't show many questions from the audience, so I am assuming it went well...I'm not sure who did better...I think it may be a men's victory.
Time for the boardroom: both the teams feel confident, but all the Trumps are still questioning why they didn't choose Michael to be project manager over Adam. Lou, yet again, complains about not being used to his potential and being marginalized...can we just send him home already? Penn throws out the fact of not wanting to do so much humor and others agree. Trump asks Adam who he would bring back if they lose and he says no one because he knows they won.
Back to the women and Teresa states her and Tia were not used in this task. Debbie says if fired she would bring back Teresa and Tia. That gets Teresa riled up some, so if they lose it should get good. Tia gets riled as well, so we shall see.
We get to the winner this week: both teams got positive and negative feedbacks, but in the end the executives thought the women did a far better job and they are the winners this week...will it be Adam since he said he would bring no one back?
The men get to defend themselves and Adam looks super worried. They, again, want to fire Lou because he is a liability...then lots of arguing with the Trumps on Michael and his lack of a role in this task. Dee said Adam was a star and it failed then he should be fired. When asked, Adam still stuck to his ground and said he will not bring back two people, so Trump sends them all out and will bring them back in a few and fire TWO of them! With that, I think he is firing Michael and Lou (Adam will be safe, he would have fired him right there if he wanted him gone). Michael will be fired for not stepping up and Lou for hearing the same complaints every week.
We come back and Adam says he made most of the decisions so he would strive in a victory or be fired in a loss and Trump agreed, so he was fired (I am shocked and sad, because he is super funny and will be missed). Trump then goes on the attack of Michael and his lack of using his brand during the presentation and not stepping up to be project manager, so he is fired also (ugh, Lou is still there).
The Celebrity Apprentice airs Sundays at 9/8c on NBC.
(Image courtesy of NBC)
Follow Todd @tbetzold