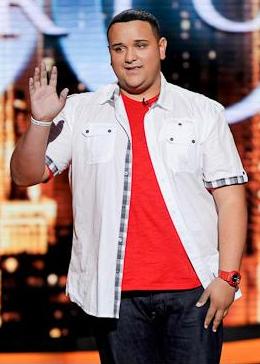 by Todd Betzold
This week on American Idol, the Top 13 took on songs from Whitney Houston and Stevie Wonder. It was a tough week for some since those are two singers not many can match. After America's vote, we were left with Jeremy Rosado as the bottom guy and Elise Testone as the bottom girl. The judges deliberated and decided it was the end of the road for Jeremy. Today he spoke with RealityWanted and other reporters in a conference call about his journey on American Idol.

Q. Todd, RealityWanted: Last night Jimmy had some harsh words for you and Steven said that he would have chosen you to go home as well. With your emotions and nerves going crazy already, what was it like to hear them say that last night?
A. Jeremy: Definitely didn't help (laughs). Definitely made you think you were the one going home, but at the same time just sitting there hoping and praying that the outcome would be in my favor. I'm grateful to the four of them: Jennifer, Jimmy, Steven and Randy, especially the judges and the producers for bringing me this far...obviously they saw something. Last night, Jennifer came up to me and told me that she wanted to keep me...that definitely made me feel pretty good. I just lost the battle last night, I guess.
Q. You mentioned Jennifer, but it seemed like she was supporting you throughout the season. Tell us how that feels to have Jennifer Lopez, a multi-platinum artist pretty much standing up for you everytime?
A. Jeremy: It was crazy...it was amazing. I will forever be grateful to her for being on my side.
I am grateful for the three of them and the producers, like I said before. Getting to the Top 13 of 100,000 people is not something that happens everyday and I really am just so blessed.
Q. After your elimination Colton had some nice things to say about you and said you were roommates. What kind of relationship did you strike up with him?
A. Jeremy: He really became my big brother...I'm going to miss him so much. I'm going to miss him and all my other brothers and sisters from the show. I love them so much and it probably is going to be the thing I am going to miss the most...not being with my family.
Q. You are a very emotional person and I know you said afterwards you were going to have a good cry. Did that happen and how did it feel?
A. Jeremy: It definitely happened...definitely cried a lot. Cried, prayed, called my Mom, called my Dad. It hurt a lot and I'm still devastated, but I'm recovering and I know only the best things are going to come from this...I've been so tremendously blessed to have been on the show.
Q. What are some of the things you'd like to happen? I know you said you were interested in acting as well.
A. Jeremy: Yeah, I love acting and singing, so hopefully maybe TV or movies, a record deal...the big dreams. So, maybe someone will reach out to me...we'll see what happens...I know God has everything under control.
Q. Now that you have the time, do you think you would ever try out for the other singing competition shows like The Voice or The X Factor?
A. Jeremy: American Idol has always been the show I have wanted to audition for and this show has done so much for me. Two reasons why I wouldn't audition for a show like that: the first thing is that I don't think they would take me because I have made it this far on this how and second, I think American Idol has done a lot for me and it gave me a huge head start in my career, so I'm hoping other doors open from this in my life.
Q. Do you have any immediate plans now that the Idol journey has come to an end?
A. Jeremy: I just have some more press to do over the next week...a lot of press...that's pretty much it for now. Then I get to go home and stay with my family and my church for a bit
Q. You definitely were Jennifer Lopez's wild card last week, so did you feel like you were on borrowed time this week seeming that five of the other six guys had received more votes then you last week? How confident were you that you would or wouldn't be in the bottom vote getter this week?
A. Jeremy: That's kind of a rough question (laughs). I definitely felt like I had something to prove since I didn't get voted into the Top 13. I was just hoping that what I had done the night before, which wasn't my best, but I definitely didn't believe I was out.
Q. When you were standing up there in the final two, you and Elise, I was just wondering what you were thinking...did you feel that compared to her performance you should have stayed?
A. Jeremy: I wouldn't compare myself to anyone because I know that everyone that is there is amazing and they're all my brothers and my sisters. I think that my performance was strong enough to still be in the competition...I thought I would still be there today, but in that moment when we were standing there together, I had a feeling that it was going to be me. Elise is amazing and she so deserves it. I'm sad that it had to be me, but at the same time I am happy for her...I truly am.
American Idol airs Wednesdays and Thursdays at 8/7c on FOX.
(Image courtesy of FOX)
Follow Todd @tbetzold