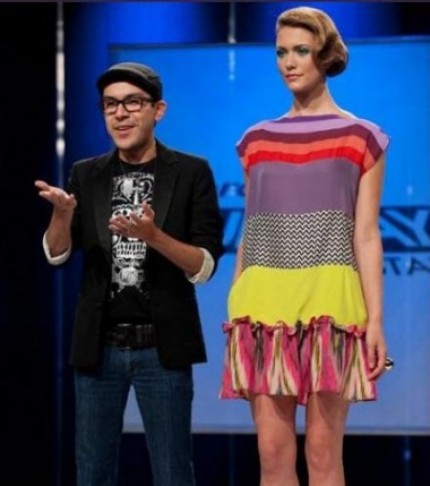 by Todd Betzold

This is it tonight for the four designers left on Project Runway All Stars...make it through tonight and they will make into the finals for All Stars and one step closer to the big prize and title as All Star Designer.
The challenge this week: design a ready-to-wear look within budget for Nanette Lepore. This is going to be combining fashion with business, with more emphasis on business. The winner this week will have their design sold in Nanette Lepore stores nationwide and the profits will go to the charity Save The Garment Center.
The designers get some time to sketch before meeting with Nanette and Kelly, who will price the design so they can see what their budget will be for the challenge. Michael's look got him a $48 budget, Kenley's budget is $41 (and she feels she nailed...she does this all the time she claims), Austin's budget is $65 and Mondo can't sketch and shows some child drawing, but they come up with a $32 budget for him...I don't know how they are going to do this.
Kenley says to Michael to be a great designer you have to know how to sketch, which Mondo overhears and he gets offended...they tried to bring drama into it, but no such luck...Kenley apologized and we seemed to have moved past it. They go and do their shopping and they all make it work within their budget allowed.
Back to the workroom and Michael's fabric has a white border he wasn't figuring into his length, so his dress might have to be missing the sleeves. The models come in and no one really has anything to fit on the models. In comes Joanna and she has Nanette with her for the critique. They don't like the fit of Kenley's dress...she sketched a form-fitting dress and this one is too loose. For Michael, they think the neck has too deep of a plunge. Joanna said Austin's look is on that fine line between being either hideous or she'll love it. For Mondo, they weren't sure what look he was going for with his dress.
The designers are feeling the pressure of knowing this is do or die for them...they all want to make it to the finals. It's the morning of the runway show and Mondo is feeling wishy-washy with his dress, which right now looks ridiculous. Austin's design looks like some old ladies' dress and Michael's dress looks boring, but he never fixed the deep plunge and Kenley's dress looks the same as always and she never can but it proper to line up the designs on the fabric...Mondo said she needs to with such a simple dress.
Time for the runway show: judges this week will be Angela, Georgina, Isaac and Nanette Lepore will be the guest judge. My likes: Austin (I don't mind it...baggy look but looks good) and Kenley (same look as always, but it was cute). My dislikes: Michael (same thing he does every week), Mondo (it's just too much for me...the patterns are out of control).
Critiques for everyone this week: For Mondo, they liked it, but wanted more form-fitting, no heels but sandals with it. For Michael, they all liked it, but Angela wondered why it was so long and Georgina agreed and Nanette wanted a back to it...backless things don't sell well. For Kenley, they think a nice dress, but the seams threw off the pattern and Nanette wanted the keyhole she sketched, but because of the pattern she used, Kenley had to get rid of it...the keyhole makes it more commercial Nanette said. For Austin, they think it is beautiful and love the cut and color and it would work great for retail, but doesn't look good on the runway...I don't know who they are going to send home...it looks like it might be Michael going home and an Austin win.
And the results are in: the winner of this challenge and the person whose design will be sold in Nanette Lepore's stores throughout the nation is Mondo. Austin is safe, so that leaves us with Michael and Kenley...one moves on to the finals and one is going home. Michael is safe, so Kenley is going home...I don't mind, the two I wanted in the final already made it!
Project Runway All Stars airs Thursdays at 9/8c on Lifetime.
(Image courtesy of Lifetime)
Follow Todd @tbetzold