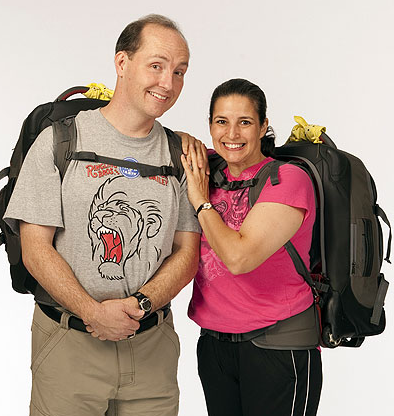 by Gina Scarpa
This week on The Amazing Race, a Road Block involving math became the undoing for married clowns Dave and Cherie Gregg. The couple first applied ten years ago and finally made it onto the show, only to be eliminated in the second leg of the race. Today, we talked to them in an exclusive interview about their race experience, that darn cow challenge, and their relationships with the other teams.
Q. Gina, RealityWanted: Were you two fans of the show previously?
A. Dave: Oh yes! We have been fans for many, many, MANY years!
A. Cherie: I first saw it at the end of season 2. I was like, "Dave, you gotta see this!" It was like, wow! How do you get to do this?
A. Dave: We applied for season 4. Another set of clowns had applied and none of us knew the other had applied and Jon and Al got in. Ten years later, it was a dream come true for us.
Q. Gina, RealityWanted: Being fans of the show, what part was the biggest surprise for you when you ran the race as opposed to when you watched it on tv?
A. Dave: All of it!
A. Cherie: How much you don't see.... you really realize how much harder it really is.
A. Dave: How many days of travel are involved.
A. Cherie: It takes 3 days and on tv, it looks like 5 minutes.
Q. Gina, RealityWanted: It didn't seem like teams were out to help you in this past leg. What was your relationship with the others like?
A. Cherie: We got along with everybody but it wasn't shown. Even the teams at the Road Block, we were on that long bus ride together. I hadn't realized that the two boys had decided to team up in the end.
A. Dave: We didn't know until we watched it on the episode last night.
A. Cherie: They got it wrong a lot. They looked like The Three Stooges so it didn't look like anyone was helping anyone.
Q. Gina, RealityWanted: Speaking of watching things back on tv, what was new information for you when you watched Sunday's episode?
A. Cherie: How many teams had trouble with the math. Both Rachels were having trouble and Art helped the blonde Rachel. A lot of people were having trouble so I was really relieved.
Q. Gina, RealityWanted: If you had known what that Road Block was going to be in advance, would Cherie have done it instead?
A. Dave: OH YES!
A. Cherie: If we had any inclination that it would be numbers or logic, that would've been me. We both have our strengths and weaknesses. Who had any idea that it was going to be numbers?
Q. Gina, RealityWanted: You two got along very well with one another and treated each other with a lot of kindness. Did you make it a point not to let the stress of the race affect your relationship?
A. Dave: I think so, yes. At the end of the day, we will still have loud discussions about things.
A. Cherie: We didn't really have an opportunity to fight. We love each other so much that at the end of the day, we're always going to go to that happy place. There's no sense in getting angry or mad at him. It wasn't going to help if I was yelling at him. It wasn't going to help the situation. I knew that I was the numbers person in the family. I knew that when we were dating. All I can do is encourage him. I wouldn't talk while he was trying to calculate.
Q. Gina, RealityWanted: Even though you only got to be part of two legs of the race, was this experience what you hoped it would be?
A. Dave: That and more so. We were excited to be able to be part of this. It was such an honor and a great thrill ride.
A. Cherie: This was the craziest roller coaster with twists and turns and ups and down. It's just a rollercoaster without tracks. We're really honored to have been chosen and that CBS picked up. I hope we can come back again. Unfinished Business 2!
The Amazing Race airs Sundays at 8/7c on CBS.
(Image courtesy of CBS)
Follow Gina @ginascarpa and "Like" her on Facebook!