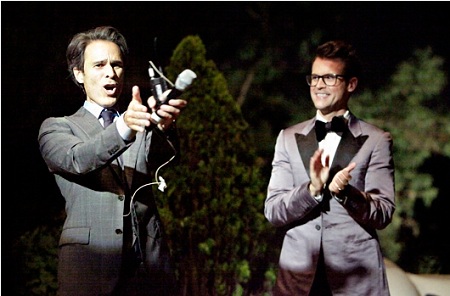 by Danae Young
This week on the season finale of It's A Brad Brad World, Brad brings Lindsay to her first photo shoot and Gary has a huge surprise for Brad at their anniversary party. 
Brad had a huge project coming up with J Brand. He had to style four new fall looks for a photo shoot that will launch on their website. Brad was really excited because J Brand is a company of very progressive thinkers, especially in terms of their denim. 
This was definitely a big deal for Brad and he was a little nervous about bringing Lindsay along as his styling assistant because she has no experience doing that. At the J Brand shoot, the first look Brad put together was very modern 1970s. Another look was a cute nautical look. Everything actually ended up going very smoothly and Lindsay did a great job. Success!
Brad and Gary met for lunch just days before their party to discuss everything. Brad loves to push Gary's buttons and he knows the easiest way to do that is to talk about a wedding, so he jokingly kept calling their anniversary party a wedding. 
Gary planned a huge surprise for Brad. That put a lot more pressure on Gary on top of planning the 150-person anniversary party. Gary got a group of close family and friends together to help with the surprise so they all had to tip toe around Brad for the past month so he didn't find out. Gary was basically sick to his stomach the entire time because he wanted everything to go perfectly. Gary's parents came out for the party and so did Brad's mom and sister, but his dad didn't show up. They still have a lot of issues to work out. Plenty of other close friends made it there, though, including actresses Shay Mitchell and Megan Mullally. 
At the party, Brad's managers pulled him aside with some amazing news. Kate Spade is hiring him as their official stylist! That is a very huge deal and he had no idea his managers were even putting that into the works for him. What an awesome surprise!
Gary got up on stage and told the entire story of how him and Brad met and then cued the magical surprise. It was a singing Flash Mob! Philip, Lindsay's dad, started singing, then Gary's co-worker Jonah joined in. Next Brad's college friend Trish started singing followed by Megan Mullally. Brad and Gary's friend Alec chimed in, too. All of a sudden a group of them got on stage and sang in unison as Gary sang with the spotlight on him. Even Brad's mom got involved in it all. It was a seriously intense theatrical performance of "One Day More", and it was totally awesome. 
Brad got up on stage next and gave a beautiful, heartwarming speech. The rest of the night everyone danced the night away. What an amazing way to end the first season! 
(Image courtesy of Bravo)
Follow Danae @danaeyoung