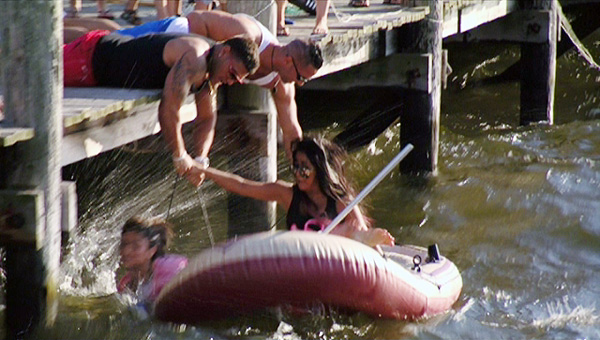 by Danae Young
This week on Jersey Shore, the whole gang goes fishing together and Vinny and Snooki have a special hang out session. 
At Karma things got crazy when Roger got in a fight with some random guy that was hitting on JWOWW. That definitely cut the night short, so everyone went back to the house. Snooki wanted to get it in with Jionni, but when they got home he went straight to the bathroom to throw up. Gross! JWOWW wanted to smush Roger too, but Roger was busy hanging out with the roommates and eating sandwiches that Mike made him. 
The next day everyone went to the docks to go fishing and catch some crabs. Mike gave up on it so he lay out to tan instead. Basically he was a sitting duck so Vinny caught a crab and put it on Mike's stomach and he totally freaked out. 
The meatballs got into a raft and went out into the water. They got stuck and then the raft started to deflate and they couldn't get out. Deena thought she heard someone yell, "Sharks!" so she freaked out and tried getting onto another boat for safety. This whole time they thought they were drowning when they were in such shallow water that they could stand. 
Snooki and Mike made a bet and the loser had to wear the bunny suit to Karma for 15 minutes. Even though I was hoping it would be Mike, Snooki lost. She definitely rocked the bunny suit and even came up with a name for it, Lola. 
MVP all found themselves some DTF girls and brought them all home. They did the deed and immediately called a cab and sent the girls on their way. Meanwhile Snooki and Deena were drunk after the club and wanted to cause some mayhem so they hopped the fence to the beach. They were playing in the water when the police showed up, but luckily they didn't get arrested. 
To get rid of their hangover Snooki and Ronnie went to the boardwalk to drink. Snooki disappeared and came back with a mini motorcycle that she knew Ronnie really wanted. She got on the bike and it looked like a normal size bike for her. 
At the Shore Store Pauly's stalker Vanessa was staring him down with her creepy death stare. JWOWW couldn't take it anymore so she approached the stalker and it was really awkward. She was carrying around a plastic bag but she wouldn't show JWOWW what was in it. 
Snooki and Vinny went to the boardwalk drunk during the day to play pool and dance like they're ninety. That only lasted so long until Snooki wanted to go drink more. Vinny cares too much about her and he wouldn't let her take shots because she was already too drunk. 

Check out a SNEAK PEAK of Jersey Shore Season 5 Episode 9 when to see the boys give Vinny the ultimate roast airing March 1st on MTV
Watch all new episodes of Jersey Shore Thursdays at 10/9c on MTV.
(Image courtesy of MTV)
Follow Danae @danaeyoung