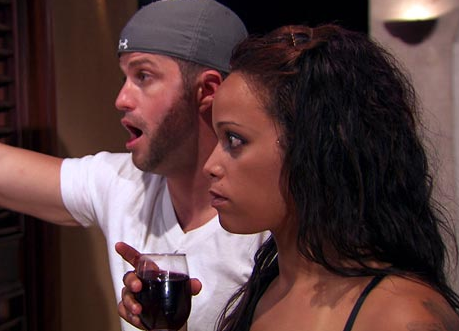 by Gina Scarpa
The good people at The Challenge must have realized that the competitors don't like being cooped up in a house for weeks on end with nothing to do so they've been letting them out to the local bars and clubs to blow off some steam. Last time they were out, Vinny ripped off Mandi's shirt, which got him and his partner kicked off the show. They've all learned their lesson about drinking in moderation, right?
First up, we have Abram and Cara Maria. I'm pretty sure she's had a few too many because she's offering to let him move in with her. This is music to his ears but we are talking about the same girl that can't seem to figure out whether she actually likes him or not these days. Next is Camila who gets upset because Johnny isn't paying enough attention to her. Back at the house, she waits for him in his bed then goes on an absolute rampage when she's told to leave. She sends furniture flying, screams uncontrollably, throws herself in the pool, and becomes who is now known as the Camilanator.
Everyone sobers up in time for the Don't Rock The Boat challenge, where teams have to make their way, together, across the mast of a ship and ring a bell at the very top. All of the teams do very well - though a few (Diem and Cara Maria) get nervous about being up so high - but no one falls or gets DQ'd. Mark and Robin end up performing the best and much as I love my man Mark, he seems to be taking a lot of credit for the success of their team.
Afterwards, the power couple does what a power couple does best: meets with the teams that are on the chopping block and try to figure out why they should save them from The Dome. Abram and Cara Maria had the slowest time, so they're automatically heading in. Feeling that he doesn't have a strong enough relationship with them, Mark decides that Emily and Ty will face off against Abram and Cara Maria. So much for Robin getting a say.
By the way, is EVERYONE in that house okay with Johnny and CT making it to the end?
Before The Dome, Cara Maria lets Abram know that she's had a change of heart (big surprise) and doesn't know if she wants to move in together anymore. Abram finally stands up for himself and tells her that they're done. You know, he may have done some crazy things over the years but he's still one of my favorite all time Challenge competitors.

The task at hand in The Dome is to win X Battle meaning that basically, Cara Maria is screwed against Emily. The Real World: DC alum easily wins the female round, leaving Ty and Abram to go at it. Now, Ty has been quite a disappointment in past challenges but perhaps being paired with Emily has lit a much needed fire underneath him. He defeats Abram and sends the broken couple packing.
We're getting closer to that final challenge (which looks insane by the way). Who are you rooting for?
The Challenge: Battle of The Exes airs Wednesdays at 10/9c on MTV.
(Image courtesy of MTV)

Follow Gina @ginascarpa and "Like" her on Facebook!