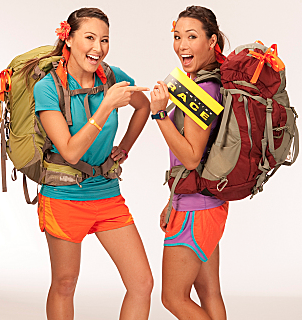 by Gina Scarpa
On Sunday night's premiere of The Amazing Race, sisters Misa and Maiya Tanaka got off to a rough start. They were the last to grab a clue from mini hot air balloons in Santa Barbara, California. Maiya's truck got stuck in the sand during a Road Block in Argentina and last but certainly not least, they didn't see Phil as they headed for the pit stop and ended up being the last to arrive. Today, we talked to the first eliminated team of the season in an exclusive interview about their relationship with one another, the bonds they formed with the other teams, and just what went wrong for them on The Amazing Race.
Q. Gina, RealityWanted: Whose idea was it to try out for The Amazing Race?
A. Maiya: It was kind of my idea. I've always watched the show and I loved it! I've watched every single season and I'm a huge fan. Basically, the way my relationship works with my sister is that I'm the idea person and she's the executor and makes it happen.
Q. Gina, RealityWanted: You both seemed very athletic and competitive coming into the race. What other qualities did you feel that you had to make you a strong team?
A. Misa: I think the biggest advantage that me and Maiya have is our sisterly relationship and we know our strengths and our weaknesses. When it comes to a challenge, like who is better at direction, we knew it was a clear challenge for Maiya to do and it worked out perfectly because I'm the crazier one. I'm not afraid of heights. I thought it was a really cool experience to be able to jump out of the plane. Making split decisions would've been our advantage and I'm really sad we didn't get to show you guys what we were made of.
A. Maiya: I think just growing up together, we know each other and each other's personalities, strengths, and weaknesses. Being sisters, we know we're going to be sisters in the end and she can't get rid of me. Whatever fight we may have had, we knew we could get through everything.
Q. Gina, RealityWanted: You had a little bit of a slow start, falling to the bottom of the pack when trying to find a clue in the mini hot air balloons in Santa Barbara. How much does stress play a factor in your state of mind when you're running the race?
A. Misa: Oh my gosh! It was so stressful! It became even more stressful knowing that we started with 11 teams and it turned into a 1% chance. Running up and down those gigantic hills was really, really tough - not only physically, but mentally. We saw the last team leave and we knew we might be there for a long time. Stress definitely plays a huge factor. If you can have a strong mental game, you can do pretty well. I didn't realize it would take such a toll on us, not sleeping and being dehydrated, all of those things.
Q. Gina, RealityWanted: Maiya, how long did it take for you to find someone to help you get your truck out of the sand in Argentina?
A. Maiya: Oh boy, that was an effort for sure! I actually was trying to dig myself out for about 15-20 minutes and just like, literally... there were some rocks nearby. I tried to put those under. Basically, I think I was there for I don't even know how long. I think it was a time warp. I was waving people down and there were not too many people that came down that road. I waved down a motorcyclist and he had some rope and then we waved down another car. The rope snapped in half, we tied a knot in it, and we flagged down a tourist van and they called somebody to help us. The next car had wire. We were waiting for a truck to come by, we attached it to the truck, and from there, we were able to get out. It was like Team Argentina! Everyone was so nice.
Q. Gina, RealityWanted: You were so close to beating out Joey and Danny but didn't see Phil at the mat. Watching it on tv, it looks like he's out in the open. What happened?
A. Misa: It's crazy! I mean, you don't realize that Phil actually has an entourage with him. I'm looking for two people. I'm not expecting a bunch of cameras, oddly enough. The state of mind that you're in when you're competing and you know that you have minutes to work with, you get that tunnel vision. There was production and all that surrounding him so it wasn't an easy as it seemed.
Q. Gina, RealityWanted: Even though you were only there for a short period of time, did you form friendships with the other teams? Was there anyone that you would've liked to work or align with?
A. Misa: Yeah, definitely! We formed a fast bond with the border patrol agents, Art and AJ, because they're from San Diego. They were like our dads looking out for us. Nobody really saw us as threats, starting out.
A. Maiya: Though they're nowhere near the age of our dads! We wanna make that clear! [Laughs] We did kind of form a bond with the other girls on the show. We were happy that there were other female teams. We nicknamed the Mississippi girls "Double Bubble". We loved Jamie and Nary, too. They were badasses from the start.
A. Misa: And also, Bopper and Mark. You can't help but love them! We were talking to them at the airport in Santa Barbara and they told us what they were fighting for, Bopper's daughter, and we knew they were there for a very good cause.
Q. Gina, RealityWanted: Did the experience of running The Amazing Race live up to your expectations?
A. Maiya: Yeah! It was everything I could've imagined it to be. Just 10 times more stressful, I guess. Watching it from your couch at all, you form a connection with people on the race but it's impossible to imagine everything that goes into it. We put our heart and every ounce of strength into winning this thing. We just tried our best and tried to prepare our best and we got a little bit unlucky in the end.
A. Misa: It was more than amazing to be on the race and to be able to experience this with my sister was priceless. This was a huge blessing. Thousands of people would love to be part of this and to be chosen to run this race was just a huge, huge opportunity. We're very thankful that we were able to be a part of it, even though it was a small part!

The Amazing Race airs Sundays at 8/7c on CBS.
(Image courtesy of CBS)

Follow Gina @ginascarpa and "Like" her on Facebook!