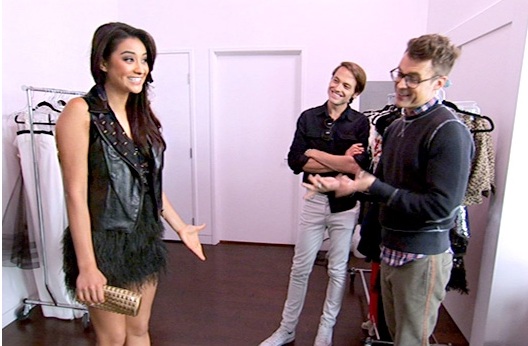 by Danae Young
This week on It's A Brad Brad World, Brad makes another trip back to New York for meetings with InStyle and Details. 
Lindsay decorated the entire office and was super nervous to see what Brad thought of it when he got back from Italy. Luckily he loved it!
Brad and Gary had a dog trainer, Caryl, come to their house to train the dogs. As long as Penelope was quiet and didn't jump, they kept giving her treats. She had so many treats I hope she didn't get sick!
Actress Shay Mitchell was the first customer at Brad's new office. She hired him to dress her for the Much Music Video Awards in Canada. They are the equivalent of the VMA's here in the U.S. Shay was definitely a bit hesitant on some of the dresses but she finally found a winner! She chose a really cute feathery black dress with a black leather vest. It was very rocker, yet chic. 
Whoa Nelly Catering came by Brad and Gary's house so they could have a tasting to decide what food to have at the anniversary party. Gary's super controlling personality couldn't have shown through any more than it did deciding on the food. He is so picky about every tiny thing. Brad is a saint for being able to put up with it that much! 
Brad and Gary went to New York for another business trip. Brad met with Danielle for the Ferragamo Show. The collection was very nautical with lots of stripes and fringe. 
The next day Brad and Gary went to support a great cause by attending The Trevor Project event. 
Brad went to InStyle to see what his page is going to look like. He has a lot of information to cover in a short amount of space, but it is still very exciting! Even better news was yet to come when Brad went to his next meeting with Details. He found out the photo shoot was so successful that they increased the amount of pages he will have in the September issue! 
Catch all new episodes of It's A Brad Brad World Mondays at 10/9c on Bravo. 
(Image courtesy of Bravo)
Follow Danae @danaeyoung