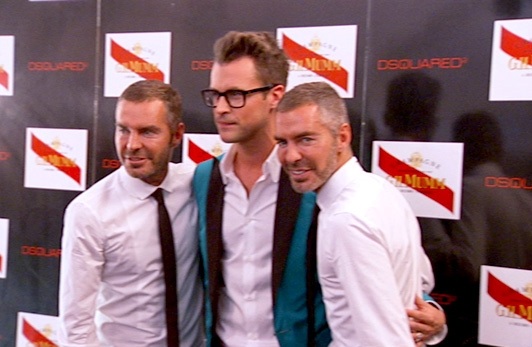 by Danae Young
This week on It's A Brad Brad World, Brad and Gary go to Milan for Men's Fashion Week. 
For one week of travel, Brad packed two whole suitcases filled with plenty of colorful suits, bowties and shoes. He made multiple outfit changes each day depending on which show he was going to be at or what designer he was going to meet.
The Neil Barrett show was very punk with lots of leather and combat boots. 
Brad had to warn Gary that he was going to be spending a lot of time on his phone tweeting and taking notes for his daily blog at Details. 
On Day 2 Brad went to meet with designer Brunello Cucinelli. He actually needed a translator theme to help him understand how the president was explaining the clothing line. 
Brad asked Gary to take a photo of him to put up on the blog and Gary had so many cups of coffee that it was hard for him to hold his hand steady enough to take a good picture. He finally snapped a good one after about the 50th time. 
Brad also went to meet Dean and Dan Caten, designers who are actually twins! They gave him an awesome turquoise blazer from their new collection. I'm surprised he didn't ask for one of the tiny Speedos they had the models wearing. 
At the Calvin Klein show, Brad got to go backstage and meet Italo Zucchelli, the creative director at Calvin Klein. Then him and Gary went to the Ferragamo show. That line is exactly how Brad thinks men should dress on vacation. The Versace show was filled with bright colors and was very 1990s. Brad actually got to go backstage at that show too and talk to Donatella Versace herself! 
The entire trip Gary had this obsession with getting women in Italy to think he's straight. There were a few times he was totally convinced the women were interested in him. 
Brad sat next to Dwayne Wade at the D Squared show. That show was Gary's favorite because they knew how to poke fun at male modeling. At one point during the show four gay men came out in the tightest leather pants I've ever seen and danced in sync. 
Catch all new episodes of It's A Brad Brad World Mondays at 10/9c on Bravo. 
(Image courtesy of Bravo)
Follow Danae @danaeyoung