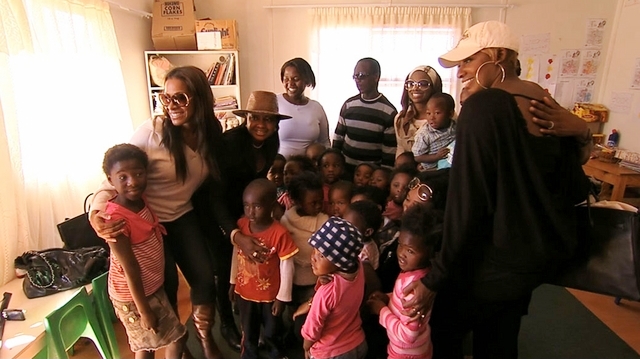 By Mike Bandy
Has it been a long two weeks for you guys without RHOA to turn to?! It sure has been for me! Let's get right back into the mess that was Marlo & Sheree's screaming match...

In case you missed it, Marlo got upset because Sheree didn't invite her to a dinner at her friend's house. NeNe jumped in to be the peacemaker, to no avail. She thought the whole thing was stupid, and wondered if this was what she looked like in an argument. Could it be that NeNe is actually putting thought behind her actions for a change? At any rate, the ladies stopped fighting and split up - Sheree, Phaedra and Kandi went to Sheree's friend's house, and the other ladies went to Nobu.

We followed Sheree to Kevin's house, where there was an African drummer in the entryway and a fire twirler in the backyard. When the group all sat down to dinner, everyone began talking about what they do. There was a model/actor/unemployed music producer (allegedly) next to Kandi, and the table seemed to think that they should hook up, but Kandi wasn't into him. I guess being a fan of Xscape just doesn't get you anywhere with the ladies.

Meanwhile, at Nobu, Cynthia and NeNe took a moment to talk about Marlo when she left the table, saying that she needs to get to know the women better. NeNe said that the fight looked ugly, and once again said that it made her look at how she fights with people. Think she'll make up with Kim now? I don't.

Later, when the women all met up at the club, Marlo hugged Phaedra and Kandi hello, and gave Sheree the finger. She then proceeded to "make it rain", and I proceeded to throw up. At 3:35 a.m., the women piled in the van and headed back for the hotel to get ready to leave on safari the next morning.

The next morning, the women arrived at the Shamwari Game Reserve and were shown around the beautiful mansion there. The women drew numbers for the bedrooms nobody wanted, and NeNe and Marlo got the short end of the stick (ha ha ha). Oh, but that was after Marlo asked that someone be brought on the property to do hair and makeup. WHY?! You're on safari, woman! It's not that big a deal!

When the women were having breakfast and getting prepared for the day's activities, NeNe received flowers from her (alleged) business partner, and the women marveled at the fact that the guy is obviously smitten with NeNe. I kind of wish NeNe felt the same about him - the poor guy is really trying hard!

Meanwhile, the ladies split up to go on safari - NeNe, Marlo and Cynthia in one Jeep, and Sheree, Phaedra and Kandi in the other. Rolling through the African wilderness, they saw giraffes (which Phaedra compared to the tall women), springboks, rhinos and everything you could think of. It was gorgeous. The highlights: NeNe freaking out about a turtle, and Phaedra bristling at the notion that dung odor could cure a headache. Where's that Advil when you need it?

Oh, and Marlo has a zebra rug in one of her bedrooms, so it was only natural to take a picture of an actual zebra to go in that same room. No wonder Cynthia was embarrassed by she and NeNe's behavior. Although, who was she going to be embarrassed in front of, really? The driver didn't seem to care.

That night, back at the mansion, the ladies toasted themselves and talked about how much fun they would have the next day - visiting an orphanage.
What followed after this made me think I was watching a completely different show. The ladies were on their way to the orphanage, and stopped at a supermarket on the way to pick up supplies, because they didn't want to go there empty-handed. When they got out of the Jeep, they were swarmed by schoolchildren who were singing, dancing, and having a great time on their recess. The women immediately took to them, and decided that they were going to buy them some provisions as well.

In the supermarket, each woman spent hundreds of dollars on things we take for granted every single day - things like toiletries and food - and gave some to the schoolchildren. They were so grateful for it, and the shop keeper said that they could also help out the surrounding community as well, because everyone in the village needed help.

All the way to the orphanage, the women stopped and gave supplies to people, and the looks of gratitude on their faces were absolutely beautiful. Who knew that these women could do anything but tear each other down?! It was awesome.

Once the women arrived at the orphanage, you could tell that they were really affected by it. There was a room full of children, and though they didn't have many possessions, or even a place to live, in the world, they were all so happy and so gracious and even sang to the women to entertain them. It brought a tear to Phaedra's eye, and it very nearly brought one to mine too. The women left the orphanage that day smiling, secure in the knowledge that they had really been able to help people. It must have felt very good.

Next week - It don't last, y'all. They're all gonna be fighting again, so I hope you enjoyed this brief respite. Ugh.