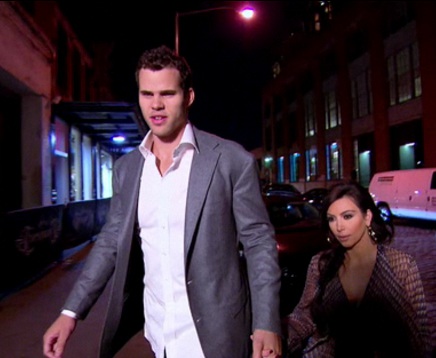 by Danae Young
This week on the finale of Kourtney and Kim Take New York, it is their last week in New York before heading back home to Los Angeles. 
Scott is opening up a restaurant in New York. When he told Kourtney it was close to being done she gave him little to no support. All she had to say was, "I'll believe it when I see it." Ouch. I guess that just gives Scott more motivation to rpove her wrong. The only problem is their stay in New York is coming to an end and he may need to stay out there to finish up the restaurant. 
Kourtney surprised Scott at the restaurant to help show her support. There is still a lot of work to be done so Scott showed her around to give her an idea of what the restaurant will look like. They even popped a bottle of champagne to celebrate. 
Kim broke down crying in front of Kourtney. She confessed that she no longer wants to be in this marriage with Kris. That has to be an incredibly tough thing to admit and say out loud. Kim sat down with Kris to talk about what is happening to their marriage. They decided to keep giving their relationship as much effort as they can. 
Their first effort was going to the gym together. That didn't go so well. Kris ended up just being his outspoken self and it got on Kim's last nerve. Attempt number two was a dinner date. Strike two! It was incredibly awkward and they didn't know what to really talk about. 
With the New York trip coming to an end, everyone has been packing boxes up filled with their stuff. Kim started to get anxiety thinking about Kris moving into her home in L.A. with her. She even asked that he didn't bring all of his stuff to her house. Kourtney overheard the conversation and called Kim a bitch in front of Kris. Kourtney thinks Kim is being insensitive toward Kris and his feelings. 
Kim called Khloe crying and freaking out over why she feels this way toward Kris. She is embarrassed and feels really bad that she fell in love and spent so much money and time of her own and of others. She is in a marriage she no longer wants to be in and she isn't sure how to handle it. Once Kourtney understood that better she apologized for calling her a bitch. 
Before their departure, each person said the pit and the peak of their New York trip. Scott said his peak was getting the restaurant together. His pit was a tad bit R-rated. The best way to put it is that he didn't get laid enough. Kourtney's pit was fighting with Scott and her peak was doing all the fun stuff that New York has to offer. Things got a little more awkward once Kim told her pit and peak. Her pit was living with all of them and her peak was seeing Mason every day. Kris immediately pointed out that he wasn't a part of her peak. 
Unfortunately we all know how Kim and Kris's relationship ends up. On a more positive note, however, Scott and Kourtney are the happiest they have ever been! 
(Image courtesy of E!)
Follow Danae @danaeyoung