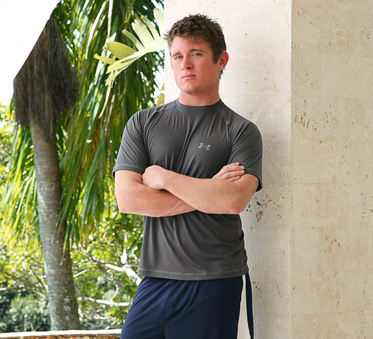 by Gina Scarpa
Every fan of The Challenge knows that rookies are always targeted first for elimination. In the case of Nate and Priscilla though, they put themselves into The Dome, after coming in last in the first challenge. Up against veterans Wes and Mandi, the cast members of The Real World: San Diego were sent home before they could barely unpack their bags. We talked to Nate today in an exclusive interview to find out more about being paired with Priscilla, facing Wes and Mandi, and whether or not we could see him again in a future challenge.
Q. Gina, RealityWanted: Were you surprised that you were paired up as exes, considering you hardly have a romantic past?
A. Nate: To me, it seemed a little off but I think it was Paula or somebody who said that there was a whole array of relationships. You had me and Priscilla who made out once, and then you had CT and Diem, and then you had Sarah and Vinny.
Q. Gina, RealityWanted: Rookies are always targeted first on The Challenge. Did you have a plan going in on how to stay off the veterans' radar?
A. Nate: No, I know that as far as the social standpoint... Priscilla tried to screw it up but I had a lot of team members that were really liking me. We weren't going to be the ones to go in.
Q. Gina, RealityWanted: Why did you have such a hard time with that first challenge?
A. Nate: I mean, you know, we were the second to last team to go. I was the last person on my side of the beam and that damn thing was slippery! And a lot of people don't realize that the honey is heavy! After I had gotten wet and gotten back to the rig, the water mixed in with the honey and it made it more slippery.
Q. Gina, RealityWanted: Wes has a very good track record in elimination rounds. Were you worried when Johnny and Camila voted him and Mandi to go up against you guys?
A. Nate: With me, I didn't watch any of The Challenges. I've never seen an episode. Same thing with The Real World. I didn't care who it was, I just knew I'd want to gouge their eyes out. I wasn't really that concerned.
Q. Gina, RealityWanted: Despite being on The Challenge only a short time, did you have a good time and would you do it again?
A. Nate: Oh my god, yeah. The people there are fantastic. Plus, it's just cool that we went to the Dominican Republic. I just got done filming [The Real World] and I was doing appearances before I left for the Dominican. Pretty much, I hadn't been working out in forever. I had been drinking every other night. I was in no condition to compete. Next time, people are going to see a different side of me.
Q. Gina, RealityWanted: How are things going otherwise, especially with The Living Memoir?
A. Nate: Hell yeah! I'm so glad you asked that! Since the season ended, we have licensed professionals monitoring the site. We have suicide prevention professionals. I'll be speaking around the country and we have a few pitches for the clothing line to some commercial retailers. Every day, the feedback is extraordinary about who we've helped. All it really is is just being socially conscious.

The Challenge: Battle of the Exes airs Wednesdays at 10/9c on MTV.
(Image courtesy of MTV)

Follow Gina @ginascarpa and "Like" her on Facebook!