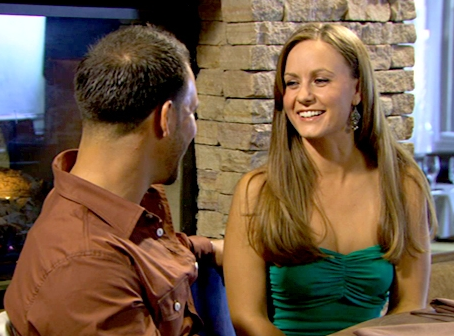 by Gina Scarpa
In early 2011, Ayla Webb signed up for a RealityWanted account in the hopes of making it onto a television show. It wasn't long before the people at Millionaire Matchmaker called her up to meet with Patti Stanger, and attend a mixer with bachelor David Cruz. She was cast on the show, won the master date with David, but got a whole lot more than that! On the reunion special, David proposed to Ayla after six months together, which caught the attention of entertainment websites AOL to RadarOnline, to name a few. We talked to our RealityWanted member today to hear more about her experience on the show and how the site changed her life in ways she never could have imagine. (see video below)
Q. Gina, RealityWanted: When did you first sign up for an account on RealityWanted and what made you decide to do it?
A. Ayla: I think I signed up on there January or February of this year. My cousin was the one who told me about it because she knows one of the site owners. I've always been interested in tv or entertainment. I was willing to take a chance on that.
Q. Gina, RealityWanted: Initially, did you have a show that you were hoping to get on?
A. Ayla: You know, I had high hopes for Big Brother, and I did actually make it to their callbacks. I found out from the site when they were doing open calls here in L.A. so I went to that, got a callback, and ended up not making that show. But it's really great because then I wouldn't have been able to do Millionaire Matchmaker.
Q. Gina, RealityWanted: Did you apply for Millionaire Matchmaker or did a casting agent contact you?
A. Ayla: They contacted me.
Q. Gina, RealityWanted: What was the process like leading up to filming Millionaire Matchmaker?
A. Ayla: A casting director called me on a Monday and we started filming on Tuesday. They do the interviews at Patti's casting place. The next day was a Wednesday and we filmed the mixer. David picked me for the master date, and there was a break on Thursday. We filmed on that Friday.
Q. Gina, RealityWanted: Did you have any hesitation about going on the show and dating someone on camera?
A. Ayla: I figured that I might as well go for it. To be perfectly honest, I've been on a dating show before. I'm such a camera ham. I know how to tune them out. It wasn't any big deal.
Q. Gina, RealityWanted: What was your expectation going into Millionaire Matchmaker?
A. Ayla: I went into it going to win. My whole goal was to at least get the master date. I figured out of 20 chicks in Hollywood, I could be the cutest and win the date with this guy! I could at least get his attention and if I didn't like him, I could get out of it.
Q. Gina, RealityWanted: What made Patti Stanger feel that you and David were a good match for one another?
A. Ayla: I think at first glance, she thought I was looks-wise what he was looking for. When she got to read into my profile and saw that we had some common interests... we had both been cheated on, we're both athletic, we're both spiritually in tune, I think she took stuff from my resume and liked that.
Q. Gina, RealityWanted: When did you start to realize that things could get serious with David?
A. Ayla: Well, I noticed right away at the mixer just how much we had in common and how easy it was to talk to him. We just started dating. We filmed our date on a Friday. After we were done filming, we went and had dessert. We saw each other that weekend. The next week, we went to the movies and we kind asked each other, "Well, is this what you want?" I told him that I most definitely did, I was done dating around. He said that he did too and wanted to try. Pretty quickly, we fell into it.
Q. Gina, RealityWanted: Did you have any idea that David was going to propose to you on the reunion special?
A. Ayla: I was shocked! It was weird because when we first got invited, that was the initial thought in my head. I was thinking, "Oh my gosh, what if he proposes to me on the show?" The more I thought about it, the more ridiculous I thought it was, just from how long we've been dating. We've talked about spending our lives together but 6 months? Usually, people aren't proposing after 6 months! Within a couple of days, I put it out of my head and let that go. By the time the show came, I was genuinely very shocked. I didn't even cry right away. I was more shaking and was like, "Is this really happening?" They had background cameras for Bravotv.com and after we finished filming the reunion, I couldn't stop crying. I was floored.
Q. Gina, RealityWanted: The proposal has been featured all over the internet, from AOL to RadarOnline. What has that attention been like for the two of you?
A. Ayla: Oh my goodness, it was overwhelming - in a good way! People wanna celebrate the love that's happening to you. We filmed it more than a month before it aired. I like to joke around with him that we got engaged on October 28th but we REALLY got engaged on December 6th because that's when the world got to find out. It was overwhelming and exciting.
Q. Gina, RealityWanted: Do you and David both have an interest in doing more television?
A. Ayla: Yeah, absolutely! We've already been approached for a couple different things between hosting and guest starring in little movies and things like that. It's always been my dream. I know he says he's more behind the scenes but I think he really likes it too.
Q. Gina, RealityWanted: Do you have a dream job?
A. Ayla: If I could be a regular on a comedy tv series, that would be my ultimate dream job. Jennifer Aniston got her break on Friends and something along those lines would be a dream for me.
Q. Gina, RealityWanted: Without RealityWanted, your life would be pretty different...
A. Ayla: Yeah, I couldn't even imagine it! I'm sure it would be 100% different right now and who knows where I would be? I'm just grateful.
Q. Gina, RealityWanted: If someone was hesitant about signing up for a profile on RealityWanted or wasn't sure if they'd get cast on a show, would you tell them to go for it?
A. Ayla: Absolutely! I would say just take that leap of faith. If you don't try, it won't happen but if you try, you at least have a shot. You have to shoot for the stars!
Check out Ayla's RealityWanted profile here!
(Image courtesy of Bravo)
Follow Gina @ginascarpa and "Like" her on Facebook!