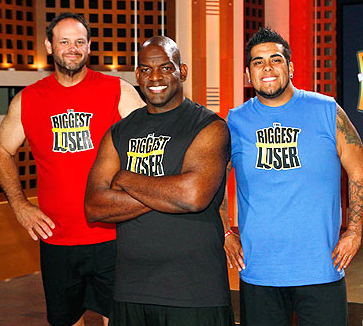 by Gina Scarpa
Things kick off on the live finale of The Biggest Loser with a performance of their theme song, "Brand New Book" by Train. Alison gives us a little sneak peek of the final three, just their shadows, and based on that, it's going to be one heck of a close race for that $250,000 grand prize!
Before we get to the contestants, can I just say that I hope I'm not the only one who wants to see Dolvett Quince return next season?
Johnny, Becky, Jessica, and Vinny are the first to hit the stage and it's tough to say which of them looks the best. Just as I'm about to get excited for them to change into their weigh in outfits, Alison drops a bomb. They've already weighed in! WHAT?! Okay, deep breath. Let's hear her out. They don't know the results and only the top three will weigh in live for the $100,000 at home prize. What the heck are they going to fill two hours with??? The first person weighing in will be, of course, Vinny.
The next four to reveal their new looks are Courtney, Bonnie, Sunny, and Patrick - and I seriously almost fell off my couch when I saw him. He looks so good that I'm willing to forgive that soul patch he grew. Sunny looks like she gave him a good run for his money. In fact, the difference between them comes down to less than 1% but Patrick comes out on top!
Last up are Debbie, Coach Mike, Joe, and Jennifer and it looks like a race between the last two in the group. After a creepy montage of Jennifer's love for Bob Harper, she inches out Joe for the final weigh in spot.
Alright, I'll give it to them.  The show is moving things along and we're on to weighing in Vinny, Patrick, and Jennifer for the at home prize. The numbers are...
Patrick: -151 (39.02%)
Jennifer: -145 (43.94%)
Vinny: -184
In order to win, Vinny needed to lose more than 187 pounds and he just narrowly missed it. Jennifer takes the at home prize! You gotta give it to her...
I feel fairly certain that Ramon had 50 Red Bulls before coming out on stage. He is PUMPED! Unfortunately for some Ramon/Jessica fans, there will be no proposal tonight despite Alison pointing out that they've put together more successful marriages than The Bachelor. Nice one, Sweeney!
When Antone steps out onto the stage, he looks 10 years younger. He says he could go back to the NFL and play right now. Yeah, I'd say! John looks great but I still worry about what Bob said earlier this season, that he'll gain it all back. This whole time, he seems like he was more fixated more on winning than changing his life long-term.
Exciting news about next season! First, Dolvett returns to train! Second, the upcoming season (which premieres in THREE WEEKS!) features a never before seen twist and immediately, I know what it is. The partners are going to be split up to face off against each other. Oh, they're going to hate every minute of that. On the bright side, Santa's on the show!
But for now, let's focus on Season 12. The final three are on the stage and step onto the scale for $250,000.  Since John left the ranch with the highest percentage of weigh loss, he decides the order.
Ramon: -154 (43.38%)
Antone: -202 (45.19%)
John: -220 
Well, there you have it.  John set a goal in his mind before he ever stepped foot on the ranch and he reached it tonight.  How do you feel about his win?

(Image courtesy of NBC)

Follow Gina @ginascarpa and "Like" her on Facebook!