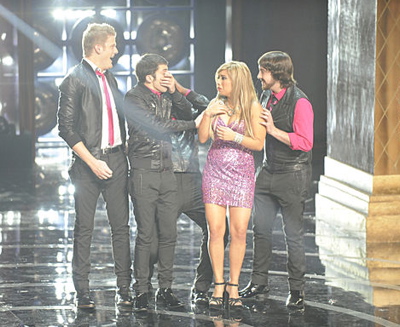 by: Todd Betzold

When Season 3 started on The Sing Off, I didn't think Pentatonix would last very long, but as the weeks went on they grew on me more and more. Well, they finally won me over with three weeks to go and I fell in love. On Monday night, after America's vote, they were crowned winners of the season. Today we were part of a conference call with Pentatonix as they talked about their experiences on The Sing Off.

Q: What was the winning moment like for you guys? Do you remember what was going through your head at that moment?
A: Scott: It was completely unreal. I just - we were all in shock, as you can see on the show. And it's just like it was just a culmination of thinking of all our journey thus far and like that we were actually standing on stage receiving the prize was something we thought never would happen. So it was just a real feeling.

Q: What would you like to say to everybody who was a fan in support of you while you were on the show?
A: Scott: I mean (unintelligible), it's just a big thank you so much. We're humbled and grateful to know that music that we've created is being received so well. And we just thank you so much. And we're going to keep making music. And we hope you all just like keep enjoying it.

Q: So, what is next for you guys?
A: Scott: What's next for us? Next for us, we're going to just do some gigs and do press. And hopefully put an album together. And just become recording artists. Hopefully we can make our music transfer over to the mainstream and be the first mainstream a cappella group.

Q: We were wondering if you could talk a little bit about your experience visiting the Trevor Project? We saw a little bit of it on the show last night.
A: Scott: Yes. It was unbelievable. It's a cause that we all support definitely. And I mean I think we've all kind of experienced that before. So it was cool to be able to relate and meet volunteers that experienced it as well. And it was just so cool. It's a great, great program. It has a great, great message. And I mean help save lives and help kids that are struggling and feel isolated and alone. So, I mean we were all about supporting it. And we were so happy that they decided to work with us when we asked them to. And we couldn't have been happier to have that package done on the show.

Q: So, I wanted to know, in addition to winning the Sing-Off, what was the biggest highlight of the competition for you guys?
A: Scott: Definitely the people we've met. Just every single group was so, so, so genuine and awesome. And everyone was there for the love of the music. And there was like no egos. And we just became so close to everyone. Some of the best friends I've made in my life I made on that show. And I think that was a real highlight of the show more than anything.

Q: What was it like to take the stage with Nick Lachey and sing a 98 Degrees song?
A: Kirstie: It was great. I actually thought it was going to be kind of awkward, especially with the kind of part I had to play. But he's like really nice, really down to earth, really sweet. And it was just a great pleasure working with him. He had a lot of advice for us. It was just really great. It all clicked when he came.
Q: But give me a sense of the kind of album you want to make? What do you hear in your heads as a Pentatonix album?
A: Scott: We really want to stage through our sound, just that five person, but with the incredible giant rhythm section sound and the three-part harmony. We want to make it electronic influenced, kind of like we did on the show. Really staying true to what our fans that we've had so far like really liked about us. And we can have some solo in it. We want to make it eclectic. But still really true to us. We also want it to be like mainstream and pop too hopefully. So we can get radio play and maybe be one of the first groups to have gone mainstream.

Q: Is there anything you can tell us about the Christmas special?
A: Scott: Oh yes. It's December 5 on NBC, 8, 7 Central. And it's going to be great. We're performing with past season winners. And there's some surprise guests. And we're doing a pretty fun song. I don't want to give away - I don't want to spoil anything. But it's going to be a great show. There's groups from past seasons that are going to be on the show. And it's just going to be a bunch of Christmas cheer. And it will be really fun and awesome. The talent on the show is going to be great. And, oh yes, and to plug, there's actually a holiday CD out called Songs of the Season. And it can be purchased on iTunes.
The Sing-Off Christmas Special airs Monday at 8/7c on NBC.

(Image courtesy of NBC)

Follow Todd @tbetzold