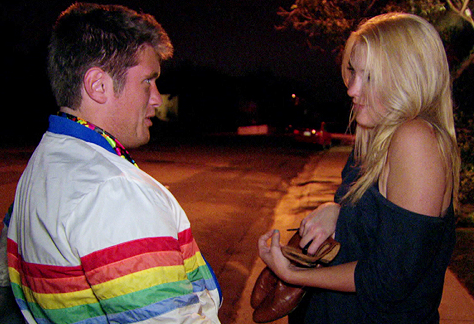 by Gina Scarpa
Love is in the air on The Real World: San Diego... er, I think I'm mistaking that for the desire to hook up. Let's start things off with Nate, who takes his boss Michelle out on a date for drinks. They cuddle up on the beach afterwards and it seems like they're really hitting it off. Yet, he booty calls her at 2am and says that they have "an understanding". Why do I have a feeling that he's the only one that understands...
Frank likes to party. And when Frank parties, he forgets that he has a boyfriend and invades the personal space of anyone and everyone around him. Michael, understandably, doesn't appreciate this and goes for a walk but Frank chases him down and blames being new to relationships for his bad behavior. Being inexperienced it okay, but it's not a "Get Out Of Jail Free" card either.
Nate throws a party for The Living Memoir, that includes a fashion show that Ashley walks in. Michelle shows up to lend her support but Nate is busy hitting on other girls. Classy. When a girl gets a little too grabby with Zach, Ashley pitches a fit but he reassures her: "I'm with you." They're together?! They're admitting it!?!!
Later, Frank mopes in his bed over how much he misses Michael. Alex comes up with the brilliant plan to surprise Frank with his boyfriend but hold up. Houston, we have a problem. Frank, this time blaming the long distance, stays out all night with boy toy Todd and cheats on Michael. When he shows up the next morning to surprise him, Frank admits what he did and it seems they're going to work through it.
After Michael heads home, Frank decides he's going to end things but Michael beats him to it and does it over a (very lengthy) email. It's definitely for the best. And while we're on the subject of Michael, am I the only one that wishes he was a full on roomie? Next season, MTV? That can be my Christmas gift. Love him.
Michelle gets fed up with Nate's immature antics and tells him that she's never had a grown man treat her the way he has. Ouch, that hurts. Is what he should have thought but he shrugs it off and moves on.
My favorite moment of the episode comes in the last few minutes when Frank and Todd head out with Sam and Zach. Zach, who has become quite the little supporter of Frank and Michael, bluntly asks Todd if he's met Frank's ex, resulting in very awkward silence. Sam's reaction was pretty priceless to that one!
The Real World: San Diego airs Wednesdays at 10/9c on MTV.
(Image courtesy of MTV)

Follow Gina @ginascarpa and "Like" her on Facebook!