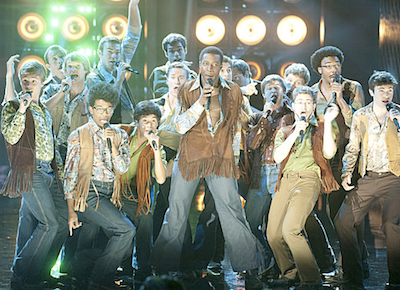 by Gina Scarpa
All season long on The Sing Off, the Darmouth Aires entertained judges and audience members alike with performances like "Pinball Wizard", "Midnight Train To Georgia", "Somebody To Love", and "Born This Way". They built momentum each week and made it all the way to the final two, but lost to Pentatonix in the end. Today, we talked to their frontman and one of the breakout stars of the season, Michael, about his time on The Sing Off.
Q. Gina, RealityWanted: When did you first begin performing and what brought you to a capella music?
A. Michael: Personally, I've been singing ever since I can remember. Singing was something that my mother encouraged me to do. In high school, I was in a mixed and an all male a capella group. That was where my love for a capella started!
Q. Gina, RealityWanted: You immediately stood out as one of the breakout stars of the season. Were you the frontman for the Aires prior to coming on the show or is that something that solidified during the season?
A. Michael: There are a lot of incredible vocalists in the Aires, and I feel so fortunate that the group allowed me to sing a lot of the leads. At Dartmouth, there are auditions for solos, so there are many different opportunities for people to shine.
Q. Gina, RealityWanted: The judges often brought up how much fun and theatrical you guys are. Do you feel that that was the big advantage that you had this season?
A. Michael: One of the things that distinguish the Aires from other all-male collegiate a cappella groups is our attention to detail in our music without getting lost in taking ourselves too seriously.

Q. Gina, RealityWanted: When you made it to the final two, what was your reaction?
A. Michael: We were ecstatic when we found out we were moving on to the final two. Pentatonix is a group for which we have extreme mutual respect. We love their innovative style and they inspired us to be creative in our arrangements on the show as well. We were so proud to share the stage with them as the top two groups from the season.

Q. Gina, RealityWanted: Your group seemed genuinely happy for Pentatonix when they won. What was going through your mind?
A. Michael: They are our best friends on the show. They were some of the first people we met when we got out to L.A. and since we were in the same bracket for the first two episodes, we spent a lot of time with them. We also realized how important winning this show was to each of them. They put school on hold to do Pentatonix and for that reason, we wish them all the success in the world and we expect to see big things from them in the near future.

Q. Gina, RealityWanted: College a capella groups don't often stay together beyond the college years. Are there any plans for you all to continue performing together?
A. Michael: The Aires has existed for the past 65 years as a group through which people pass initiating changes and leaving forever changed. This group of Aires will continue to come back and perform together as alums from time to time, but the current group will continue to accept new members each year providing them with the opportunity to do great things with this group. We hope that the group continues to have great opportunities to perform in the ways we did on this show.

Q. Gina, RealityWanted: Your performance with Ben on the finale was so awesome and he's known for getting the audience involved in his shows. What was the experience of performing with him like?
A. Michael: Ben is all about audience participation and so are the Aires. Our audience is the most important aspect of each performance and we always say that if we leave with people smiling and feeling entertained, then we have done our job. It was such an honor to work with Ben Folds, he's an amazing musician and he has taught us so much about our sound and how to be a better a cappella group throughout the season so we were so grateful for the opportunity to perform with him on the show.

Q. Gina, RealityWanted: What's next for you and what do you want to say to your fans?
A. Michael: Well, I have to finish my finals this semester. I graduate Dartmouth this coming spring, so I am really interested in making music, and hopefully inspiring people in that venue. To the fan of the Dartmouth Aires, and to the sing off, thank you so much for watching us. I have been so inspired by the comment that we have received, and it has been an honor performing for you all these past few months!

Don't miss The Sing Off's holiday special, Monday December 5th at 8/7c on NBC.
(Image courtesy of NBC)

Follow Gina @ginascarpa and "Like" her on Facebook!