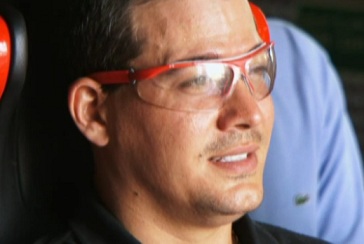 by Gina Scarpa
Rob and Dennis have arrived in Abu Dhabi, one of the richest cities in the world, on Around The World In 80 Ways. Their first stop is to take a trip on the world's fastest rollercoaster in the theme park Ferrari World. They'll get up to 149mph in less than 5 seconds - that's like being in a slingshot!
Once the adrenaline settles, they decide to challenge each other to yet another race. Of course. The loser has to pay for a day at the spa for the winner... who knew these guys liked facials and pedicures? Dennis takes a Ferrari and Rob hops into a speedboat. While Rob is at a speed disadvantage, it's a straight shot for him to the finish line: the top of Burj Khalifa, the tallest building in the world. It stands almost half a mile high.
Just when you thought it wasn't possible to cheat, Rob calls the police to tell them some jerk in a Ferrari cut him off on the highway resulting in a $260 fine for Dennis. Oh, that's cold.
They both reach the elevator at the same time, amazingly, and take the 124 story ride to the top. Even more amazing? That elevator shot them to the top at 40mph in just about a minute!
The boys head to the spa, the boys argue over who won the race, while enjoying a full mud treatment. Little awkward...
In the middle of the Dubai desert is an indoor ski park, which Amazing Race fans may remember from season 15. There, Rob and Dennis create their own bobsleds to what else? Race! On the way down, Rob bumps into Dennis, sending them both spinning out of control but they continue on. Dennis reaches the finish line first, finally getting a victory that Rob can't argue with!
As Rob's punishment for losing, he has to pay for all of Dennis's souvenirs - which ends up running him almost $700!
A trip on wave runners brings them to the desert, which they continue on with the help of some dune buggies.  Those things fly across the sand!  They finally arrive at a their destination, a bedouin camp in the middle of the desert.  After enjoying a little hookah with the locals, they try a little camel milk... fresh from the camel.  Things finish up with a camel ride, which makes that their 48th method of transportation.

Around The World In 80 Ways airs Sundays at 11/10c on History.
(Image courtesy of History)

Follow Gina @ginascarpa and "Like" her on Facebook!