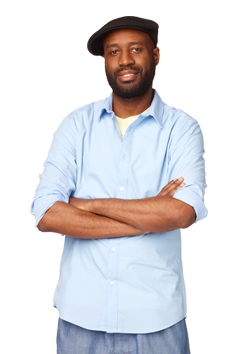 by Todd Betzold

Changing newspaper headlines into pieces of art was the theme this week on Work Of Art: The Next Great Artist. Some of the artists shined and others struggled with the challenge, including Bayete who took himself out of his comfort zone of photography when he took on this challenge. The piece he came up with did not work for the judges andhe was sent home. Today we got an exclusive interview with Bayete as he talked about his experiences on Work Of Art.

Q: Todd, RealityWanted: What made you try out for Work Of Art?
A: Bayete: It was recommended to me by a curator that I worked with in San Francisco. I was kinda skeptical of doing it and skeptical of reality television, but I felt obligated to her to follow through with it.

Q: Todd, RealityWanted: How do you feel about your piece you created, given the time constraints in the competition and the fact you went out of your comfort zone of photography?
A: Bayete: I didn't like the piece at all. I was annoyed with myself for not keeping it more simple. The situation is hard to work in and I didn't think through on the practical side of things.

Q: Todd, RealityWanted: You had some highs and lows in the competition, one week being in bottom three and next week winning the challenge and now being sent home. How did you handle the ups and downs of the competition?
A: Bayete: It was challenging. The type of work I make and how to apply what I do to that situation. I make by going out and interacting with the world. Being sequestered by the competition didn't allow me to do that. Just was trying to think of ways to bring myself into the assignments. It is a hyper-tense situation and gonna be ups and downs. I like the second piece and how it fit into the concept of the challenge. It was also fun working wih the kids and parents...more practical of the situation I work in.

Q: Todd, RealityWanted: Did any of the other artists stand out to you during the competition?
A: Bayete: I got along with most of them. Leon stuck out to me. I liked his style, aesthetic and craft. I thought his piece in the second challenge was a legitimately solid art piece. Sucklord stood out as a character to me...super fun to be around. Tewz because we both grew up in the hip-hop culture...related to each other's experiences. Sara K. and Jazz-Minh are really insightful people.

Q: Todd, RealityWanted: Would you ever do another reality show?
A: Bayete: Probably not. Unless it was Bayete's show and I had a lot of the creative control. It is a hard format to work. Takes a good amount of time and energy to craft a program that adds to the lexicon of pop culture. It would have to be a very unique circumstance, but I definitely would do this show again and have the experiences from this show.

Q: Todd, RealityWanted: What's next for Bayete?
A: Bayete: I'm working on a couple projects. One is called "Got The Power," which are sculptures from six to 15 feet made out of boomboxes. I go and get stories from people in that community. Their memories and favorite songs play out of the boomboxes. Also working on a project called "The Question Bridge," which will be showing in Brooklyn from January - April and in Oakland from February - May. It is a transmedia project and is a video-mediated Q&A exchange between black men. Start with black men and hope it will expand to others. You can find more information at www.bayete.net and www.questionbridge.com.
Work Of Art: The Next Great Artist airs Wednesdays at 9/8c on Bravo.

(Image courtesy of Bravo)

Follow Todd @tbetzold