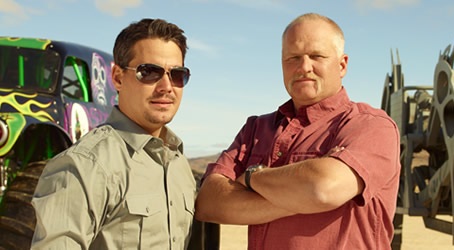 by Gina Scarpa
On this week's Around The World In 80 Ways, Rob and Dennis have a new destination - the island of Zanzibar. Currently in Zambia, the boys were hoping to take a truck to Lake Tanganyika but it's busted and broken. Not very helpful at all. Unless you have Dennis Anderson with you, that is.
He gets it up and running and many locals hop on without even asking for a free ride. It's not too long before they approach a road block but it's hard to tell whether the people pulling them over are actually cops or bandits looking for money. They turned out to be legitimate cops (and angry cops at that) and production has to step in before they're hauled off to a police station.
The truck is taken from them and they're stuck riding heavy, wooden bikes until they reach a hotel for some much needed rest. The next day, they board a ferry that was built in 1903 to take them on an overnight trip up Lake Tanganyika. It's a dangerous journey as more and more people pile onto the ferry along the way, boarding from rafts that pull up alongside. There aren't enough life vests or boats if anything should happen.
The guys finally and thankfully arrive safely in Kigoma and head to a train station but find out that the next train leaves two days from now. Instead, they board a hot air balloon and head on a breathtaking ride to The Serengheti. After a little safari adventure, they go to a market where they build stilts to help them get around. Yeah, that doesn't last too long!
The guys visit with some locals where Dennis teaches the kids about Gravedigger while Rob is led around by a bunch of men who want to hold his hand everywhere they go, which makes him slightly uncomfortable. When they try to slaughter a goat for them to eat, Rob can't stomach it and tells them to let the animal go.
They move on and arrive at the coast of Tanzania, with Zanzibar in sight.  They pay for a dhow boat (a small sailboat), which they'll never use again, and finally reach their destination for this episode.  Once there, they rent a pair of scooters and of course, insist on a race, through the maze of streets.  Afterwards, they cross something off of Rob's list of things he wanted to do - visit the birthplace of the late, great Freddy Mercury.
Around The World In 80 Ways airs Sundays at 11/10c on History.
(Image courtesy of History)

Follow Gina @ginascarpa and "Like" her on Facebook!