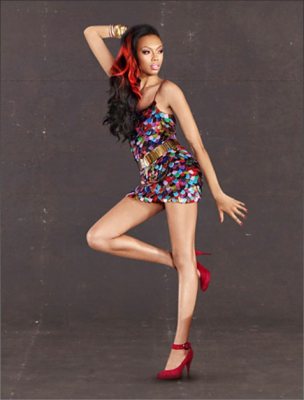 by Mike Bandy
This week on ANTM All-Stars, Bianca, the "candid" beauty who made it to the top 4 in Cycle 9, was sent home in a double elimination with Kayla. The judges thought that, although her pictures were great, she just wasn't coachable enough to continue in the competition. We talked to Bianca about her time in the competition, and what's coming up next!

Q. Mike, RealityWanted: We know that you're very close with Bre, who was eliminated the week before you. Are you and Bre still close after appearing together on this cycle, or did it cause a strain on the friendship?
A. Bianca: Super, super close; I was just on the phone with her this morning asking her what kind of questions people were going to ask me! [laughs] She's still my big sister.

Q. Mike, RealityWanted: It seems like you had conflicts with a lot of girls this cycle; Shannon, Lisa, Alexandria just to name a few. Do you feel that stress played a big factor in that this cycle? How stressful was this cycle compared to Cycle 9?
A. Bianca: Cycle 9 wasn't stressful at all for me, it was like a vacation! This time, it was like, you have a lot more to lose, there are agents watching, and you worry how you're going to be edited and perceived.

Q. Mike, RealityWanted: You've done a lot with your career since first appearing on Top Model, appearing in numerous photo shoots and runway shows, as well as a national campaign with Macy's. Are you recognized often in public? How do you handle that?
A. Bianca: Yes! Everywhere...just now walking down the street I got stopped. It's a lot of fun...I hate it sometimes, because I don't wear that much makeup out [laughs], but it's fun.

Q. Mike, RealityWanted: Your branding word this cycle was "candid". What does the word "candid" mean to you, and what do you do to identify with it?
A. Bianca: The word candid for me is just a way of conducting yourself. With me, I think being from NY and being raised the way I was, it was just being me and living my life, people call it that so I go with it. Not being apologetic for what's on your mind. It gets me into trouble all the time, especially with my mom, but it comes with the territory.

Q. Mike, RealityWanted: If you could have picked any other girl from Cycle 9 to compete with you, whom would you have picked?
A. Bianca: Oh gosh! I have to say Saleisha, only because we've gotten so close after. I'd have loved for people to see our friendship and how we've grown, and she's a lot of fun.
Q. Mike, RealityWanted: What was your favorite photo shoot and favorite challenge?
A. Bianca: My favorite photo shoot was the Pink's challenge. I loved the outcome, and the photo.

Q. Mike, RealityWanted: What's coming up next for Bianca?
A. Bianca: I have two holiday commercials coming out, and I have stuff coming out with Target and Sears. Just still working!