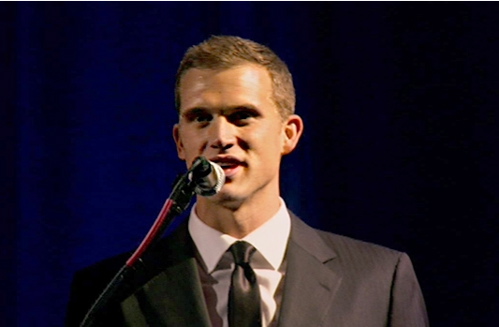 by: Todd Betzold
If I get through tonight's episode of Most Eligible Dallas then I only have one more to make it through...thank you.
And we start out with the pathetic phone call between Matt and Courtney to make each other jealous. Why were you mad last night Courtney? I'm not mad. I'm going on a date with my South African squeeze now. Now I'm jealous because I'm a douche.
We see Glenn packing up his ex's bags for her trip back to California and then Tara goes rock climbing with her ex-fiancé. They are your ex for a reason, leave them at home people.
The ex-fiancé questions Tara's relationship with Jody. Both Courtney and her ex do not like Jody and think it is going no where....well of course, but how would that work into the show?
Courtney stops in at Matt's office to just hang out, because they are such busy people and so important at their jobs. They each talk about their "relationships" with each other, which makes them both upset and jealous. So, last episode he wanted to date Neill, but now she is too young and just divorced. Matt then asks Courtney to be his date to his charity event and of course that just brings a big smile to her face....these two are so lame.
We see Glenn drop off his ex at the airport. I guess this is the show's attempt to feature Glenn in some kind of aspect, since he never is.
Now, the last date with Mark, Courtney's South African squeeze, before he goes back to South Africa for six weeks. Mark calls out Courtney's love for Matt, which then we have to hear justified that they are just "friends." Is this the only thing this show has? The stupid relationship between Courtney and Matt is so overplayed.
Tara and Jody have a date night. Jody proceeds to talk Tara up and she loves it. He is being all cutesy and it is kind of disgusting. She then has to justify how this relationship could work, even though Courtney and her ex-fiancé disagree.
Matt and Neill go on a date, even though he just said he couldn't date her. He has to clarify that they are not dating and Neill agrees, but he has to continue the talk like he is letting her down, which is not true. Makes me like Neill even more right now...put Matt in his place.
Jody questions why Tara has never made it down the aisle because of her like 80 previous engagements. This is all leading to Jody asking her to marry him, I just know it. It seems right; I mean they have been dating for like a month.
Drew goes to hang out with Daylon to talk. So, Drew has been confessing his love for Cody, his ex. He loves him and wants back with him and blah blah, but then Drew goes to a bar with Cody and Drew makes out with another guy right in front of Cody. This is why I hate gay men, and don't get mad...I am a gay man, but this is the perception people have of gay men and it bothers the hell out of me.
So, they have a pool party to kick off the summer and have some fun with all their friends. I don't think any of these people actually know each other, but lets all get pretty for the camera. Tara and Courtney sit in the corner being bitter of all the high heels and bikinis...jealous whores! Drunk Matt confesses his love for Courtney and she takes it all in. Can we move on to other people Bravo???
Matt's turn to look like he cares about charity. His event is going on today and he goes to put the finishing touches on it. It is such an important event for him.
Everyone is arriving for the event and Courtney is running late and Matt is freaking out. 25 minutes until the event and Courtney needs 20 minutes to get ready. She is running way late and not freaking out. This is not gonna end well.
We get to see Matt's ex-teammates in attendance for support, or camera time...still no Courtney. She is still home trying to get pretty for the ball. Courtney finally arrives and way late, but Matt was not upset because she looked beautiful. And she loves seeing the nicer side of Matt, so they're going to be hooking up tonight.
Drew calls Cody to apologize and Cody wants nothing to do it. Love it. Drew pours it on and tries to make himself look like the victim and Cody doesn't back down. Poor, poor Drew...don't be a whore and you wouldn't be going through this.
Matt's family just bought some property out of town and invites Courtney to a getaway weekend, which she gladly accepts. The drama will unfold on the season finale next week.
Most Eligible Dallas airs Mondays at 10/9c on Bravo.
(Image courtesy of Bravo)
Follow Todd @tbetzold