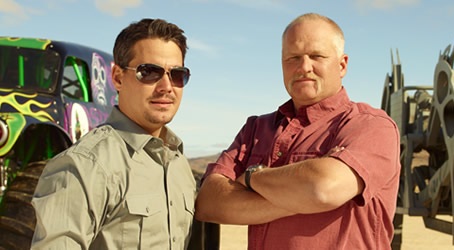 by Gina Scarpa
Around The World In 80 Ways brings Survivor's Boston Rob and Monster Truck's Dennis Anderson together to take a trip around the world. The catch is that once they use one form of transportation, they can never repeat it. Dennis kicks things off with the most obvious question: Can you even name 80 different ways of transportation? By the end of this trip, they surely will be able to!
Dennis destroys Rob's car with his Gravedigger so the tow truck becomes the first method of transportation. Not the best way to kick things off. Next up is a "walking beast" which is 13,000 monster that moves at the whopping speed of 2mph. Who cares? This thing is awesome! The beast is supposed to be a lesson in teamwork, since both people need to operate it, but Rob's got it off the road and Dennis gets fed up - they made it all of 200 feet.
A commercial airline takes them to Peru where they load up on souvenirs and find their next mode of transportation: a bus headed (eventually) to Lake Titicaca. Only time will tell if using their one and only bus trip up this early in their trip around the world makes sense. With no guard rails on the windy roads leading higher and higher up into the Andes, I'd say this bus trip sure doesn't feel like a great idea!
Once they're off the bus, and unable to take it back down the mountain, there's only one way to descend - a trip down a zip line. Dennis doesn't seem too high on the idea but the former Survivor winner is all for it. About 1500 feet later, and after a few scary moments, they safely put their feet back onto the ground.
After the zip line, they're headed down the Inca Trail but with their feet too tired to continue waking, they strike a deal with a local to purchase two small horses to make the 35 mile trek.  The horses, unfortunately, are also too wiped out and that trip is cut short.  Rob and Dennis trade the horses for a motorbike and cruise for a while... until they run out of gas.  Thankfully, Dennis flags down a water taxi which takes them to a place called the floating islands.  As Rob explains, "It's essentially an entire island made out of straw."  They only last six months before the reeds dry out and then the natives have to start again. 
Rob and Dennis may be starting to work together and appreciate each other more but they can't help their competitive nature.  Things end with a dragon boat race down Lake Titicaca, their destination for this episode.  Rob, sneaky as always, gets a motor on his boat so of course, he wins.  As if Dennis was annoyed enough from losing to Rob, he gets a ticket from the police for leaving his boat in the water.

Around The World In 80 Ways airs Sundays at 10/9c on History.
(Image courtesy of History)

Follow Gina @ginascarpa and "Like" her on Facebook!