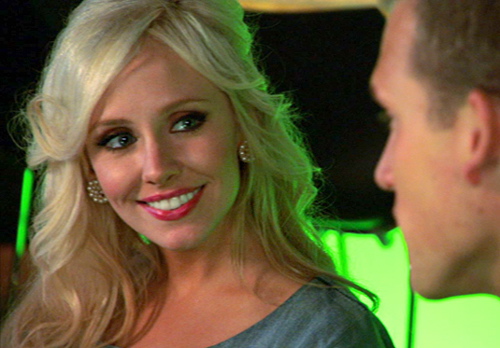 by: Todd Betzold
We were all given one week off of Most Eligible Dallas, but the drama is back this week and they all still drive me insane...even a week off didn't help.
We start out from where we ended last time, Drew confronting Courtney about her pettiness. Tara comes over and tries to mend fences, but Drew tells her to butt out. It doesn't go anywhere past that though.
Matt pulls Neill away from the party and heads home because he is jealous Neill is flirting with Glenn. If she is going to be his date to an event then she shouldn't flirt with other guys...this coming from the guy who is constantly going out with four women on one date...such a douche.
Courtney and Drew meet for lunch to discuss their issues as "adults." We are supposed to feel bad for poor, used-to-be-fat Drew. They sort things out and seem to end it on a good note. They are both just so fake.
Now it's pity party for Tara, who has so much on her plate working for her parent's company and the charity she does. These people need serious help. They act like they have so much to do and so stressed, but there they are hanging out in the middle of the day...so stressful.
Drew comes to Tara's office and they decide to go steal a dog that is being abused and not taken care of by a lady. Drew is hesitant, but trusts Tara.
Courtney calls Matt as she waits for her date...why do you call him while waiting for a date? Why go on a date when you want Matt? Then we get to hear Courtney whine about going on dates...she's a mess. The date picks her up and it is just awkward...not a whole lot of talking.
Courtney has her friends come and meet the date so they can judge him for her, as well. They go on a trolley ride and all hang out together. The guy seems like a decent guy and has a sexy accent, so Courtney will screw it up somehow.
Meanwhile, Tara and Drew go to steal the dog. No one is home and Tara is determined to get this dog out of there. The house is disgusting and the dog is clearly not taken care of. They get in the backyard and find the dog in a shed that reeks of urine. They get him out and hopefully to a better home....probably the best part of the whole season.
Matt, Glenn, Tara and Courtney pretend to meet up to "workout." They don't really workout, but they talk about Courtney's date and Matt gets jealous of the kiss she had with her date. Glenn talks about his ex who is coming to town tomorrow.
We then get to see Glenn pick up his ex from the airport. They hug and kiss and act like they are still together, which makes it weird for me to watch....aren't you two exes?
Speaking of exes, Drew goes and picks up his ex, Cody, for dinner. We find out Drew is still in love with Cody and wants to spend the rest of his life with him. Well, at dinner Cody drops a ball on Drew...he got into a design school in New York and will be leaving in two months. Drew is sad because every time they get close something pulls them apart...poor Drew.
It's date night again...Tara and Jody head to Billy Bob's 30th anniversary party, Glenn and his ex go out and Neill and Matt go out.
Tara and Jody are attending together, but after Tara got Jody to shave off his soul patch....a goal of hers. Courtney meets them there, to make sure she approves of Jody. At dinner, Courtney grills Jody with 20 million questions to see if he is worthy of Tara, including if he wants more kids. He seems hesitant about it, which would be a deal breaker for Tara.
Glenn and his ex attend a chocolate factory, because that is one of her loves besides Glenn. There is a lot of flirting going on between them, so just go home and have sex. They talk about marriage and his ex wanting to settle down.
Matt and Neill go out on their date to see how they each feel about the other. Matt claims to not want to date, but now Neill has him wanting to date just one person. I can't take him seriously because he just comes off as fake and not trustworthy.
We see Neill finally doing something with her son and playing with him and chatting with her mother out in the backyard...they talk about Matt and the possibility of him meeting her son...her Mom thinks he should.
Courtney and Matt hang out at his house. More jealousy on Courtney's part where Neill is concerned. She just can't stand them being close. Flirting, yet again, between the two of them...they drive me insane.
Most Eligible Dallas airs Mondays at 10/9c on Bravo.
(Image courtesy of Bravo)
Follow Todd @tbetzold