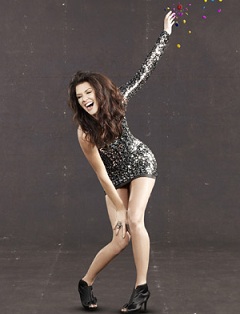 by Mike Bandy
On the first episode of the All-Star Cycle of Top Model, Brittany, the resident party girl of cycle 4, was eliminated for not being memorable to the crowd. Huh?!? Brittany back then and today has always been full of personality, and she's known for taking some amazing photos, but alas, Alexandria was saved from the bottom two. We spoke to Brittany about her thoughts on this cycle, what it was really like in front of that huge crowd, and what's coming up next for her!
Q. Mike, RealityWanted: How did this all star cycle compare to Cycle 4? Do you feel it was a more serious competition, or less serious?
A. Brittany: Okay, so compared to cycle 4...I was a lot younger, I was more excited to be on TV, and [thinking] what if I get famous, and I wanted to see Tyra...it was not like that to come back. I've lived in L.A. for 7 years already, so the excitement factor was a lot lower, and I was a lot less stressed. It was more of a "here we go again" situation.
Q. Mike, RealityWanted: Is there anybody from your cycle (or any other cycle) that you'd have liked to see in the house?
A. Brittany: You know who I actually loved a lot, whom I've met and done appearances with, was Ann from cycle 3! That would have been fun, and from my cycle, definitely my girl Keenyah! I loved her. Some of the girls had people from their seasons with them, but it wasn't bad being the only one chosen from 4, even though I'd have loved to see some of my girls again!
Q. Mike, RealityWanted: You made it to the top 4 in cycle 4, but you were sent home first this time around. You mentioned that your head is in a completely different place than it was back then - do you think that contributed to you being sent home so early?
A. Brittany: Not at all! I do have a little bit of a personality. I was less nervous, but I'm still me! I felt way more confident this time around, because I've been in the industry and I've done this before. When you have fun in life, it shows. When you're nervous about something, it's not attractive. This time I was way more carefree and easy about it. I went on the stage and rocked it out and they loved my photos. I honestly don't know why I got eliminated! I wish Tyra would tell me why! I don't buy that nobody remembered me - fans were yelling my name out on that stage! Afterwards, they were coming up to me wanting a photo, so I don't know who these imaginary people were that had no comments about me!
Q. Mike, RealityWanted: I know! How could that crowd POSSIBLY not remember you?!?! Your "SHUT UP!" to Keenyah back in cycle 4 was comedic gold!
A. Brittany: [Laughs] I love that that's everyone's favorite memory! So many people since have thanked me for doing it too!
Q. Mike, RealityWanted: What was it really like being in front of such a huge crowd for a judging?
A. Brittany: I loved it! I thrive off a crowd and off the energy. That's why I want to become a host! To me, being there with the fans, I thought it was so amazing. I know I have big fans out there, and I thought I had this! I don't know if it's pre-determined that they wanted me off first, but it makes no sense.
Q. Mike, RealityWanted: What's next in the life of Brittany Brower?
A. Brittany: Well, I've started Brittany Brower models, where I train new girls and guys, and it's kind of like a mother agency. I started it actually in Florida when I was 15 with my mom, so I wanted to bring the concept to the west coast, especially since I've been through boot camp hell, which is Top Model! I really give new models advice about healthy body image, and trying to fit the industry mold, and I try to let my students know to go with their personalities, because that will sell. Not everybody is a size 00, it's just not the way God made us! You can check us out at brittanybrowermodels.com. I have a medical spa that I run as well, and I'm going to be doing a web series on brittanybrower.com called Topped Off, where every week I'll be talking about the show and what I thought about it! So...don't cry for me, Argentina, I'm good!
America's Next Top Model airs Wednesdays at 8/7c on the CW.
(Image courtesy of the CW)