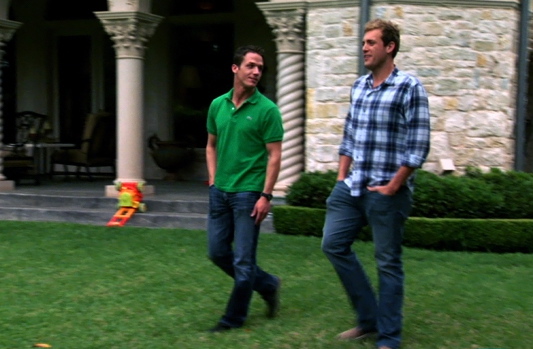 by: Todd Betzold
This week it is made to look like the cast of Most Eligible Dallas is all about charity work...doubt it, but it looks good for the cameras.
Tara and Courtney start it out having lunch together. We get to hear about how bad Tara's last date went. They talk about how hard the dating scene is.
We then get to see a '60s theme charity event Tara is throwing for her animal rescue mission, Paws In The City. Of course, all the show regulars, except Neill, are in attendance for the event. Lovers Matt and Courtney attend together, big surprise, and Drew brings an ex-boyfriend, Cody, as his date.
Meanwhile, Jody, Tara's love interest, asks her after a few drinks if they want to be exclusive. What, are we in junior high? She agrees, so yet again, she is in a relationship, which will probably end in a proposal and another failed engagement.
One of Tara's many ex-fiancés is in attendance and makes it awkward. He comes off as a douche, but that seems the type of guys she likes. The ex-fiancé acts inappropriately and is hugging on Tara, which makes her uncomfortable and she goes to the bathroom. That leaves the guys together, who share angry words with each other....classy.
Courtney then asks Tara what the situation is with Jody and she says that they are now officially dating. This drives Courtney insane, seeming Tara was just on a date with a different guy the night before....poor Courtney can never find anyone!
The whole gang meets for breakfast, Neill included this time. We find out some information on Drew, who apparently is a recovering alcoholic. He then tells everyone he has a table reserved for them at an event for DIFFA, Design Industry Foundation Fighting AIDS. Apparently it is all about fashion and who you are wearing, so Courtney is all about it.
Neill, having a free night out without her son, meets up with Glenn to hook him up with a friend of hers. He brings a friend along too for Neill. She is not having any chemistry with Glenn's friend. He is talking and making no sense, so they all decide to get out of the club and head back to Glenn's place. Meanwhile, Glenn and Neill's friend hit it off very well. They go to the rooftop and have a makeout session as Neill and her date sit awkwardly waiting on the couch. Neill gets them both out of there, as Glenn tries to get them to stay and cuddle.
Tara and Courtney have some friends over for an adult sleepover. They have some champagne and a tarot card reader comes over. The reader does some funky stuff in the living room to clean out the place...good times.
The tarot card reader tells Courtney she needs to open up more and take down the walls, which she agrees with. She hates to hear it, but she agrees with him. Tara is told she doesn't need a man right now in her life, to which she doesn't believe it.
Drew visits home, where apparently his family name is well known in the Dallas area. We meet his dad and stepmother, who is only two years older then Drew. Cody joins the family for dinner. This is the first time that Drew has ever brought a guy home, so he wants to show Cody he wants more then friendship.
Matt goes out to dinner with his mother, grandmother, father and Courtney. Apparently Matt's mother loves Courtney, which I am sure makes her even happier. We find out Matt takes after his grandmother, who is apparently dating four guys right now...good for them. Matt is such a douche.
It's time for the DIFFA event, so everyone is getting all done up for the night. The fashion night for Dallas is underway. Drew brings Cody to the event so he can have a hand to grab when he gets nervous. His family is also there to see him receive his honor.
Matt brings Neill to the event, which of course sets Courtney off, but of course she wants everyone to know that she was Matt's first choice, not Neill. Drew gets upset with Courtney, who is more concerned with the event being about fashion, the people and her gay hubby, Daylon, being on the runway then the actual charity it is for.
Meanwhile, Neill and Glenn are out working it on the dance floor, which gets Matt upset. Neill and Glenn are clearly flirting and it's nice to see...it's cute, but Matt brought her as a date and after preaching about how he is not ready to date, he apparently wants to see where things go with Neill.
The show ends with Drew confronting Courtney on the way she is acting. He gets fed up with her blowing him off, even though he invited them all as his guests. This episode ends with some tension, but it will only continue on next week's show.
Most Eligible Dallas airs Mondays at 10/9c on Bravo.
(Image courtesy of Bravo)
Follow Todd @tbetzold