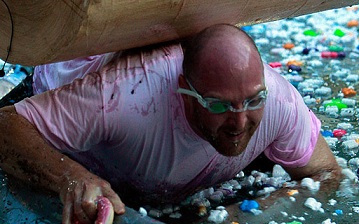 by Gina Scarpa
Thursday night's eviction episode of Big Brother left us in the middle of an HOH competition, where the houseguests have to crawl through glaze and a pit of sprinkles to retrieve donuts. Tonight, after yelling repeatedly that she was doing it for Brendon (oh yeah, and Jeff and Jordan), Rachel wins - it couldn't have come at a more crucial time, too.
ATUF (Adam The Ultimate Floater) immediately makes a plan to run back to Rachel and Jordan to stay in their good graces. Kalia tries to make amends with ATUF and claims confusion in her attempt to vote him out of the house.
Rachel's voice reaches new heights when she walks into her HOH room and sees that every picture is of her and her man. Kalia hangs back after everyone leaves and blows smoke to try to convince Rachel to save her. When blowing smoke doesn't work, she resorts to tears and then selling out her partner. If you're Rachel, how do you trust that?
While we're on the subject of Rachel, if you ever see her while driving down the street, get... out... of... the... way. Her description of her driving should strike fear in the hearts of anyone with a license.
Porsche tries to strike a deal with Rachel but she's not so convinced that she can trust her. Good call, Rach. The minute Porsche gets the chance, she'll stab you in the back and throw you up on the block.
Adam has a really serious obsession with 90210 that is pretty weird. He even called his girlfriend Donna Martin in bed. WHY would he ever do that but even worse, WHY would he say it on national tv?!
Pandora's Box makes a return and you'll never believe who is in it: Tori Spelling. Rachel can't resist temptation (or some prodding from production, I'm sure) and opens it up. Once she walks inside, Jessie from BB10 is waiting for her to take her shopping... for all products with his face on it. Awful for her but best Pandora's Box in a while. My favorite is still the one where the guys in the cat and baby costumes ran rampant throughout the house.  I searched for YouTube clips in case you've never seen it but to no avail.
That means Tori is unleashed upon the house and Adam literally freaks out like a 12 year old at a Justin Bieber concert when he sees her. They pose for pictures as he squeals, "That's SO gonna be on my Facebook page!" As she leaves, she sends them outside for a 3 minute shopping spree to grab whatever they can.
After all the excitement wears off, Adam heads to the HOH room to implore Rachel to put Porsche and Kalia on the block so they can't save each other... and so he stays safe.  Afterwards, Jordan makes a case to Rachel not to let someone get to the end who slept their way through the competition.  Literally.  Kalia sleeps so much that they call her Koala, because the animal sleeps 22 hours a day.
At the nomination ceremony, Rachel does what's best for her game and puts Porsche and Kalia on the block together.
Find out who wins the Power of Veto on Big Brother, Wednesday at 8/7c on CBS.
(Image courtesy of CBS)

Follow Gina @ginascarpa and "Like" her on Facebook!