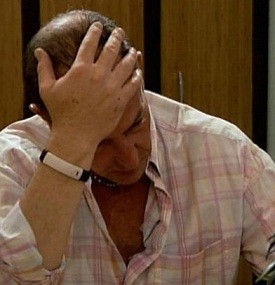 by Mike Bandy
Last night's episode of Celebrity Rehab began with a recap of last week's chaos, where Michael was arrested after an altercation between him and his ex, Kate Major. The police questioned him about what happened, as Kate was outside still screaming and crying. The police decided not to press any charges on Michael, and Dr. Drew sat down with him to talk about what happened. He said that he's only concerned about Michael, even though he knows Kate is sick as well. He told Michael that he needs to cool out.
Dr. Drew also said that he has to calm down for the safety of the Center, or he'll be discharged, and Michael agreed that he'd keep calm. Dr. Drew went outside and asked Michael's friend Cindy not to call there ever again, because Michael is on lockdown. Dr. Drew also told Kate that she needs to go to the hospital that they set up for her, and she said that she planned to go tomorrow. Kate and her friend finally left.
The next morning, Shelly confronted Michael about what had happened the night before, and he was yelling at Shelly about it, when Sean came in and yelled at him to shut up. They got into a bit of an argument, and then it was time for the process group, where Michael apologized to the whole group, especially Sean. Sean said that what irritates her is that she feels captive by his situation.
Shelly said that this can all be avoided by taking direction. Michael said that he doesn't act this way to anyone else in his life, only people he's in a relationship with. Jeremy said that what happened the night before deviated from Michael's plan, and that's why he got so pissed off.
Michael said that no matter what Kate does, he still reacted the way he did. Michael said that he doesn't want his family to see him this way; he wants them to see him under control. He said that what's going on with him is going to take the rest of his life to fix, and Bai said that he should have faith. Michael was really upset but was finally surrendering to his feelings, and everybody in the group rallied around him in support. Dr. Drew said that this is what treatment looks like when it's working.
The next day, the patients only had two days left of treatment, and at morning meditation, Shelly said that the patients have to focus on not using. Sean said that there's something exciting about alcohol, but the momentary rush she gets from it doesn't last. Still, the thought of being sober the rest of her life is daunting to her, because she doesn't feel like she'll have fun. Jessica burst into tears, and said she was scared of drinking when she leaves. Shelly agreed that it was scary, and Jessica said that she's not used to having fun without using. Shelly said that she's been sober for 15 years, and she's had plenty of fun, but it's really one day at a time.
It was recommended that Jessica continue treatment in a sober living facility, but she'd been resistant to the idea. Bob and Dr. Drew met with Jessica to discuss their concerns about her staying sober. She didn't seem to be too concerned by her marijuana use and didn't think she needed to go to sober living, but she agreed to go see the place anyway.
Later that day, Dr. Drew had a meeting with Sean, as he was concerned about her ability to stay sober as well. Her husband of over 20 years is also an alcoholic, and Sean said that she doesn't think she can remain sober with him still drinking. Dr. Drew said that he'd have her husband come in for a talk as well. Sean called her husband and let him know that sobriety would be very difficult if he didn't try to get sober as well, and he said that he could see that.
Next we focused on Jeremy, because Dr. Drew was concerned that he wouldn't be able to stay sober after treatment either, especially with all the supplements he was using. Bob Forrest and Jeremy went back to Jeremy's house so he could destroy and get rid of all the drugs he had, which amounted to over $10,000 worth. When it was over, Jeremy said that knowing he'd come home to a peaceful, clean environment was really important to him. It was a really positive step in his recovery.
Sean and her husband had a meeting with Dr. Drew, and she expressed concerns about staying sober with him still drinking. Her husband didn't seem to have a lot to say, but he did express that Sean's time in rehab has been a wake-up call for him. He's been to AA meetings, but didn't feel comfortable, and he felt that if he could find a meeting that would work for him, he'd stick with it. Dr. Drew said that it's clear they love each other, but sobriety will test their marriage, and if they can do it together, their bond will be stronger.
Meanwhile, Jessica took a tour of the sober living facility for women, and learned about all the rules they had there. Jessica would have to attend 5 mandatory meetings a week, stick to a curfew, and share a room with another woman. Ultimately, Jessica decided not to go to sober living, and Shelly said that you can't tell an addict what to do. Jessica would have to learn on her own.
The episode ended on a sad note, with the news of the death of a former patient, Mike Starr, from an overdose. Shelly had to break the news to Steven, who was a close friend of Mike's, and didn't take the news well. It did seem to be a wake-up call for Steven, and he said that it could have easily been him, and it still can if he doesn't fix this.

Next week, the patients graduate from rehab. Will any go on to sober living? Stay tuned.
Celebrity Rehab airs Sundays at 9/8c on Vh1.
(Image courtesy of Vh1)