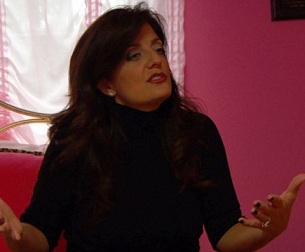 by Jessica Blackwell
Ashley's father comes into town and surprises her, which was nice because he missed the Christmas holiday with her. Both parents take her out to dinner and it basically turned into a makeshift intervention about her poor attitude and lack of focus and ambition.
She had a plan to move to California to launch her career (?), but didn't know how she was going to fund the trip. They made her see that without a real plan, it was a frivolous dream. I think getting it from both sides was a little bit hard to take, because she quickly lashed out at her mother making a quip about the fact that she doesn't have a child like Jacqueline did at her age. Jacqueline rightfully got very upset and decided that she was done with Ashley, proclaiming that she was a selfish, ungrateful brat and she wanted her out of her home. In the end, Ashley got some much needed good advice from people who care about her. Once again, it seems as though she put on blinders and played the "poor me" role. Both ladies ended up in tears and that drama continues next week!
"To me the best things in life are good food, good sex, and good friends & family"
Teresa is following up her Skinny Italian, with a new cookbook, Fabulicious. She attempted to capture her family life in photographs for the new book, but the kids melted down faster than butter in the microwave. Teresa thanked her mother and father in-law for contributing the recipes to her cookbook.
"When you're sending the right message, you'll attract the right suitors"
Kathy and Rich start to realize that their daughter, Victoria is no longer a little girl and they both have different ideas on how to handle it. Kathy wants to have "the talk" with her, and Rich is in denial. Victoria is going to be attending a dance at her school, and Kathy took her dress shopping, where she censored her choices. She wanted to make sure that Victoria was sending the right message with the dress she wore, and I think that was a smart thing to look out for.
Melissa continued to complain about Teresa taking occasional verbal jabs at her, meanwhile she was working on her single that actually dropped last week. I have yet to listen to it, but so far the reviews are lukewarm. It looks like things won't remain peaceful for the sisters in law, if the previews for next week are any indicator!
The Real Housewives of New Jersey airs Sundays at 10/9c on Bravo.
(Image courtesy of Bravo)