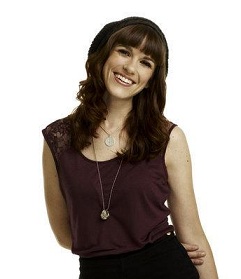 by Gina Scarpa
Her fellow contestants may have underestimated her on Platinum Hit but Jes Hudak made it all the way to the finale and took second place. The judges felt her final song, "Come Alive", was her best work yet and it is hopefully not the last we've heard from this talented songwriter. Today, we caught up with Jes in an exclusive interview to find out more about her Platinum Hit experience.
Q. Gina, RealityWanted: What was your songwriting and performance experience prior to Platinum Hit?
A. Jes: Before Platinum Hit, I had been working on my music career for years. My first record came out when I was 14. That's like 15 years of being like, "Today's the day! I'm gonna make it!" I put out a record last year, I was winning contests, collaborating with other artists, and it almost seemed like the natural progression of things to do this show?
Q. Gina, RealityWanted: What made you decide to try out for Platinum Hit?
A. Jes: It was a perfect fit for me. I always have to keep in mind my ultimate goal - getting my music out to the world. I want to inspire people with my music. The purpose of this is to have a million or so people hear my voice. How was I going to reach those people, being an independent artist? It just totally made sense at that time in my life.
Q. Gina, RealityWanted: There were some big names that came in to judge throughout the competition. Did any of them make you nervous?
A. Jes: Oh my God, well considering that Ryan Tedder is my number one dream cowriter... that was very, very nervewracking.
Q. Gina, RealityWanted: My two favorite songs that you did this season were "Free" and "Come Alive". Do you have a favorite?
A. Jes: "Free" is definitely my favorite. I do love "Come Alive" and I'm really proud of that but I think overall, my favorite song to sit down and sing at the piano is definitely "Free".
Q. Gina, RealityWanted: Scotty and Sonyae seemed to really underestimate you in the finale. Why do you think that was?
A. Jes: I don't know. I just kind of slipped under the radar and they didn't consider me as a threat and I was totally cool with that. I was like, "I know how to beat you because I pay attention to the judges." I was paying attention the whole time. I did kind of hang back a little bit and not show my hand too much because I thought it was an advantage. I just wanted to focus on my own thing.
Q. Gina, RealityWanted: You and Nick didn't get along too well on the show. Now that it's over, where are the two of you at?
A. Jes: I wish him luck and I think he needs a hug or something. It's hard to see somebody be that angry. That's coming from somewhere and I can't take that personally. I think he does have some raw talent but I don't think we're going to make an album of duets.
Q. Gina, RealityWanted: I think a lot of fans really enjoyed the romance between you and Johnny but was it awkward watching it back on tv?
A. Jes: What? There's nothing awkward at all about matted down bangs in a sweatshirt, smooching. No but in a way, it was pretty awesome. When do you get to see a budding relationship of yours on tv? We really did like each other genuinely. Ehhh, watching it back. The kissing. I get grossed out watching other people on tv...
Q. Gina, RealityWanted: I know Johnny and Brian have collaborated since the show. Are you working with any of your fellow contestants?
A. Jes: Oh yeah! Jackie is one of my best friends and we've been friends for years. We met in a grocery store. Independently of each other, we made it on the show. We have a whole YouTube channel. We were so focused on the competition. It was hard to have fun really. Amber, too. We have good lyrical chemistry. She's such a badass. She's so awesome in so many ways.
Q. Gina, RealityWanted: What are you up to now and how can fans stay in touch with you?
A. Jes: I am all up in the social media! I'm on Twitter and Facebook all the time. Tweet at me, yo! I will probably tweet you back. I'm working on all sorts of music. I want to put out a record of all new material. I just have a lot of plans with my music. I wanna do a Christmas EP this year. That's something I've always wanted to do. Lots and lots of plans. If you go to jeshudak.com and sign up, you get 5 free cover songs that I did.
(Image courtesy of Bravo)

Follow Gina @ginascarpa and "Like" her on Facebook!