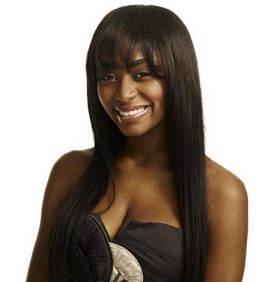 by Gina Scarpa
On the season finale of Platinum Hit, Sonyae's song about loving someone like her own religion wowed the judges and earned her the win. She now has a record deal, a publishing deal, new studio equipment, and connections with important people in the industry. Today, we caught up with the winner to find out more about her time on Platinum Hit and her upcoming plans.
Q. Gina, RealityWanted: What were you doing musically before Platinum Hit?
A. Sonyae: I was doing the same thing that I've been doing on Platinum Hit, establishing myself as a singer/songwriter. I had a mix tape out, which is how I got on the show. I did viral videos and that kind of got me on the show. I was kind of added last minute to the show.
Q. Gina, RealityWanted: Did you have any reservations about doing a reality tv show?
A. Sonyae: I did. I did not have reality in my plans whatsoever. It just kind of fell in my lap and I had to go for it. Time's are changing, internet is taking over, it's reality tv everything. I thought it would be a really good opportunity. I couldn't let it pass me by. I didn't go seeking it out. When things like that happen, you don't push it away. You gotta handle it!
Q. Gina, RealityWanted: Did you always view Scotty as your biggest competition, even from the beginning?
A. Sonyae: Not from the beginning. I didn't really know who to view as my biggest competition. I had to sit back and see. Shortly after I would say, "Yeah, he's the one." We clicked right away, too. Getting to know him, I was like, "He's a pretty dope person!" People tried to pick him first for every damn challenge.
Q. Gina, RealityWanted: Besides Scotty, is there anyone else that you have a genuine friendship with outside of the show?
A. Sonyae: Me and Brian have a genuine friendship. He's cool as hell. That's it.
Q. Gina, RealityWanted: In the finale, Scotty didn't seem on board with your concept of religion. Do you think he was trying to steer you in the wrong direction or was that genuinely his opinion?
A. Sonyae: I think that was his opinion. I don't think he was trying to give me bad advice at all. Even if it was, it backfired on him anyway! I don't think that was his intention. We talk personally so I knew what he meant. I think we were genuinely trying to help each other. We believe in ourselves enought to know we're gonna do a good job anyway.
Q. Gina, RealityWanted: There was so much pressure during that final performance. How did you keep your cool?
A. Sonyae: You thought I was keeping my cool?! I'm pretty good at that then. My mom watched and she was like, "Baby, I could see the nerves. It made me upset because I couldn't calm my baby down!" Jeez, it was so many things going through my mind. I was getting used to just performing for the judges. Actually, I was more comfortable because I am a true performer. I'm comfortable on the stage. The bigger the audience, the better. Before getting on, sitting there, seeing my family there, it was so emotional. I think it helped because I pushed through it.
Q. Gina, RealityWanted: What does winning the show mean for you and your career?
A. Sonyae: Winning the show means that I have these contracts and I have studio equipment and I can continue to knock down doors with establishing who I am and build my career stronger. I can have more people pay attention to me that matter, that can get my songs to the next level. Not just around the homies and the best friends saying, "Girl, that song is good!" They can't do anything with it! I'm in touch with a lot more people with the power to get this thing rolling and get me popping as a singer and a songwriter. I'm excited. I'm in the studio with any and every producer that made their mark on the music industry, that I looked up to and longed to work with. They're paying atteniton and they're longing to work with me. Everything is unfolding and it's euphoric.

Keep up to date with Sonyae by visiting her website, sonyaeelise.com.
(Image courtesy of Bravo)

Follow Gina @ginascarpa and "Like" her on Facebook!