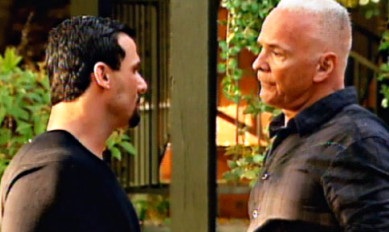 by Mike Bandy
On Celebrity Rehab, we started out with a recap of what happened with Michael, and him being upset with the rules for Kate Major coming to visit. Dr. Drew came in to talk to Michael, and said that he should get Kate on the phone to talk to Dr. Drew to clear things up. He wanted her to go into treatment as a contingency of her visiting, and she was worried because she didn't want to go into a rehab that she didn't know anything about. She committed to going immediately into treatment at the end of the weekend, and Dr. Drew said she could come.

The next day was the first day of family weekend. Dr. Drew checked in with the patients to prepare them for what was going to happen. When they start getting well, the families will start unloading aggressively about their frustrations with them. The patients headed to Pasadena city hall to meet up with their families, and Dr. Drew sat down with the entire group to talk about how the addictions have affected their lives.
Jeremy's sister stood up and spoke about how she had resentment toward him for a long time, but she doesn't feel that way anymore. They both have the same depression issues, and she worries about him all the time, that he might kill himself. Amy's husband stood up, and said that Amy can't overcome her shyness and have confidence in herself, and he'd like to see her make some headway in that. Kate Major talked about Michael and immediately started to cry. She said that she has her own issues and she wants to get herself better, and she loves him, and that they both have to get better. She says that he has to deal with his anger, and that there was physical stuff that happened between them, and she needs to work on herself and get her own help.
Then Jessica's sister stood up and called her selfish, and said that it's not fair for her family to see what she does. It gets to her because Jessica has a large family, but she disinherited everybody, and it's not fair for them not to know who she is, and that's how she makes them feel. Her sister says that there's more to the picture than just alcoholism.
Jessica and her sister met with Dr. Drew to talk about their relationship. Her sister said that Jessica chose not to associate with the family, and her sister feels that she doesn't see family enough. Jessica than said that her sister drinks and takes pills too, but her sister insisted that she doesn't have a problem with alcohol. He asked Jessica if she can maintain sobriety as an outpatient, and she said that she has a USO tour in Singapore that she has to do, and Dr. Drew said that that's a bad idea. Jessica said that the only reason she hasn't committed suicide is because of her little brothers and her nieces and nephews.
Next, Amy and her husband met with Dr. Drew, and her husband said that he hopes they can help his wife, because she doesn't like to talk to people. He wants her to function outside of him. Amy said that she goes through her own internal battle, and she thinks her husband doesn't understand why. Her husband said that he's lost jobs as a consequence of their relationship, and that's been a strain. Dr. Drew said that there are unhealthy dynamics in their relationship.
Next, Dr. Drew wanted to talk to Kate Major alone. She said that she's been in treatment before, but she wants to give her and Michael another chance. She was planning to move back in with him, but Dr. Drew said that was a terrible idea. She needs to take time for herself to get better. Dr. Drew then called Michael over to tell him the same thing, and Kate was having trouble accepting it, saying she doesn't want to live without him. Michael was very level-headed and said that if it meant they'd both get better, he'd do it.

Many of the patients had a hard day with their families, and Jessica in particular had to make the hard decision of whether or not to go on the USO tour. She ultimately decided against it and called the tour manager to let him know. He was very understanding, and I was proud of Jessica for making such a big step!
The next day, everybody gathered for another special event, where Dr. Drew brought out Nicki McKibbin, who has been sober for 3 years, since her time on Celebrity Rehab. They played a video showing past photos of the patients, and Nicki sang. She told the crowd to stay strong and be proud of who they are. It was really emotional and awesome to see her recover so well.
Then at dinner, Jeremy's sister made a "Buttafuoco Face Shooter" joke to Amy, which upset her husband, and he laid into her about it. The poor girl had a panic attack, and while Jeremy was trying to tend to her, Amy's husband got in his face and threatened to kill him if he didn't speak to Amy a little nicer. Meanwhile, Amy was crying, Jeremy's sister was crying, and his mother had had enough, and had her daughter call the police.
Michael tried to calm Amy's husband down, to no avail, and then the cops showed up. To be continued!  What will happen next week? Stay tuned!
Celebrity Rehab airs Sundays at 9/8c on Vh1.
(Image courtesy of Vh1)