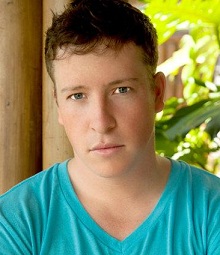 by Gina Scarpa
It probably seemed like a good plan at the time on The Challenge: Rivals. Evan and Nehemiah volunteered to throw a challenge so that they could automatically go into the jungle and try to take out CT and Adam, everyone's biggest competition. It ended up biting them in the end, and they were eliminated just a few challenges before the finals. Today, we caught up with Evan in an exclusive interview to find out more about his experiences and get an inside look at Rivals.
Q. Gina, RealityWanted: You didn't do Fresh Meat II or Cutthroat. Was the hiatus from MTV challenges your idea or did the network want to change things up a bit?
A. Evan: Nah, it was my idea. I got invited to both challenges but I've been trying to slowly become an adult. I wanted to make some life choices. I ran out of money so I'm back on the challenges.
Q. Gina, RealityWanted: When you came back, did you feel any differently?
A. Evan: You know what it was? When I stopped doing challenges, I was on a good streak. I had won three in a row. The show is about alliances, and Kenny and I probably had the most dominant alliance to ever be assembled. I was a little concerned that I hadn't met any of the new people from Fresh Meat or the more recent seasons of The Real World. I hadn't been on the scene for a while.
Q. Gina, RealityWanted: Did any of the people returning help get you to come back for Rivals?
A. Evan: I knew Kenny and Johnny were going and that Paula was going. It felt like that it could be fun to be back in the house.
Q. Gina, RealityWanted: Whose idea was it for you and Nehemiah to go up against CT and Adam in the jungle? When Kenny and Wes had the chance, why didn't they take them on? It seemed like you were doing their dirty work.
A. Evan: It was my idea for us to go against them because I mean, a lot of people are like, "You're afraid of CT." It has nothing to do with fear. It's simple math. If Johnny, Kenny, and me want to be in the final challenge... there's only three teams in the final. One of us needs to take out CT. He's a great competitor. That's definitely a factor but we're not afraid of him.
Q. Gina, RealityWanted: Was Nehemiah upset that you threw the challenge or was he upset with how you went about throwing the challenge?
A. Evan: I mean, I think both. Nehemiah definitely knew the plan. At the end of the day, listen. Nehemiah is a bit of an actor. Everything he's doing, you're like, "Really? Dude, it's a little much." For the first time in his challenge career, he was on the winning end of the things. That's one of the things I liked about Rivals. Wes talks such a big game but he goes home early because he hasn't been on the right side of the coin. They're people that Kenny, Johnny, and I would throw in. On The Gauntlet III, Nehemiah was the worst one so we kept him around and he won and he hangs his hat on it. Yeah, it's dirty work but I think I match up against CT the best. It is a friendship and I have known these guys for years. It's something that needed to get done. I really am friends with Kenny and Johnny. I'm not even going to chance the situation where Mike and Leroy win and then what? I go in against Johnny?
Q. Gina, RealityWanted: You were getting some flack from the other players who said you were out of shape. When you watch the episodes back and hear what they have to say, what are your feelings?
A. Evan: You know what it is? I mean, obviously, it's definitely annoying to hear Evelyn have any sort of comment but it's like, listen. As the season progresses, a lot more will be told for sure. The bottom line is that I'm the only cast member to play college sports, have an athletic background... if these guys wanna have beach muscles and do steroids, that's great. I mean, I still think at the end of the day, we're all getting older. Am I in as good of shape as I was? Absolutely not.
Q. Gina, RealityWanted: You are always out of the drama. You don't fight with people and you don't hook up with people. Why is that?
A. Evan: I mean, well one, I have a girlfriend who I sincerely care about. And two, I am friends with a lot of the girls on the show but they're lonely. It's not just a hookup. You hook up with a girl on the show, you get a phone call about how they're moving to where you live. What? We made out once and you're moving to Canada? That's how crazy these girls are. They're way too much of a headache. Also, I think what always baffles me is that viewers get into it and they don't get that it's a business. It's an investment. To 90% of the people on the show, this is their job. I don't think anyone has negative things to say about me. It's a game. When people say, "I don't get why they're doing this to me," it's like, "What don't you get?" It's a game and it's a gruesome game.
Q. Gina, RealityWanted: So the game can cross into your real lives?
A. Evan: Definitely, I mean, that's kind of what I'm talking about. It's unfortunate when you have to be like, "I'm not trying to screw you over. It's how the cards fell." Even Paula - she's someone that I really respect and love and I've known her for so long. At times, the game has affected our relationship. It's hard for people to understand. I'm sure everyone saw Kenny crying when I left. Let's put it this way. It's a game. If you don't return my phone calls and try to hook up with my girlfriend, then we have a problem. I've done this 7 times now.
Q. Gina, RealityWanted: What are you up to now? Have you given any thought to doing another challenge?
A. Evan: I've been living abroad since last October, doing my Masters Degree - conflict resolution and negotiation of all things. Suck Yeah is still rolling along. I'm working with a new social network called The Royal Few. I'm going to get a real job. From what I understand, the challenge hasn't been renewed. I think Rivals was the last one. I'm thankful for all the memories. I feel like I won the lottery for 5 years.

The Challenge: Rivals airs Wednesdays at 10/9c on MTV.
(Image courtesy of MTV)

Follow Gina @ginascarpa and "Like" her on Facebook!