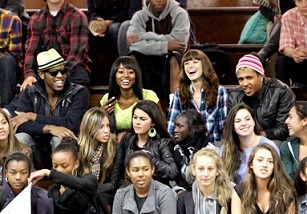 by Gina Scarpa
There are only four songwriters left in the competition on Platinum Hit. Jewel meets up with the contestants and brings along guest judge Perez Hilton with her. Their challenge is to write a simple, catchy, pop hook. Jewel and Perez didn't have great feedback for the foursome - they thought Jes was negative, hated Scotty's title, questioned Sonyae's melody, and didn't get what Nick's song was even about.
Nick came in fourth, with Jes and Sonyae in front of him. Scotty is the winner, based on the fact that if he rewrites the lyrics, the song could potentially be a hit. After Perez makes his exit, Jewel lets everyone know that they'll be writing alone this week. They songs will be judged by the Santa Monica High School student body, who will probably be tough critics and brutally honest.
While everyone works in their respective studios, Kara stops in to offer some advice but it really messes with some of their heads.  She questions everything from the titles to the melodies to the hooks themselves.
The songs are not performed live for the SMHS students; instead, the recorded track is played to see how well the kids respond to it. That didn't give us much to watch during the peformances, except high school kids clapping their hands and shakin' what their mamas gave them.
Taio Cruz joins the judges this week and they let Sonyae know that the teenagers have spoken! She is the winner of this week's challenge with her song "Exit" and is headed for the final three.  Scotty is also safe, which leaves Nick and Jes in the bottom two.  The judges didn't feel that Nick's melody was catchy enough while Jes's song came off as a bit juvenile.  In the end though, they decide that Nick's song was too much of a miss and he was eliminated from the competition.
Platinum Hit airs Fridays at 8/7c on Bravo.
(Image courtesy of Bravo)

Follow Gina @ginascarpa and "Like" her on Facebook!