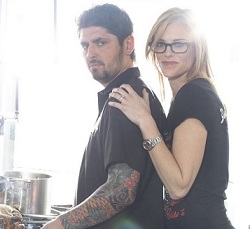 by Gina Scarpa
Tomorrow night, chef Ludo Lefebvre will introduce America to pop-up restaurant movement with his new show on Sundance Channel. Ludo Bites America takes him and his wife (and business partner) Krissy across the country, using social media to invite foodies and fans to check out his restaurant for just one night. Today, we talked to Ludo in an exclusive interview about the show and learn more about his restaurant and food.
Q. Gina, RealityWanted: For those who don't know, what is a pop up restaurant?
A. Ludo: There are varying definitions of a pop-up restaurant out there. We call LudoBites a touring pop-up restaurant. We open a restaurant for a limited period of time within another restaurant. We have no permanent address and no phone number. We have done 6 LudoBites in Los Angeles and have now taken it on tour around America. In Los Angeles, we are typically open between 3 weeks and 3 months. Around America, our pop-ups were just one night.
Q. Gina, RealityWanted: What gave you the idea to do pop up restaurants across the country and what was appealing about it?
A. Ludo: The first LudoBites was really just a special event. My friend owned a bakery that did not have dinner service, so I was able to use the kitchen and the space without a huge investment. It has since become our full-time business model. Opening a restaurant is very expensive and time consuming, but the pop-up business model removes the huge overhead and the time.
Q. Gina, RealityWanted: Your wife Krissy is your business partner. How would you describe your working relationship?
A. Ludo: It is fun. I trust her and that is the most important thing. It is so hard to try anyone in business. As long as she stays out of the kitchen, everything is great!
Q. Gina, RealityWanted: You travel to some very different cities on the show. Did you have a favorite?
A. Ludo: I had great experiences in all of the cities but I would say that my favorite was Raleigh, NC. The town was so alive! I also love the Denver/Boulder area. I have never been there before but Krissy is from there. It was fun to be there for business.
Q. Gina, RealityWanted: Did you try to match the style of cuisine to the city you were in or did you want to do something totally different and original?
A. Ludo: I used local ingredients and tried to come up with a menu that would be well received by the community, but I definitely did not want to create dishes that you can get anywhere in town. I pushed the envelope as much as I thought appropriate for each town.
Q. Gina, RealityWanted: How did you get the word out to people to check out your restaurant?
A. Ludo: Krissy handles the marketing. She uses a lot of social media, Facebook and Twitter, and we had pretty good press coverage in most cities.
Q. Gina, RealityWanted: What was the reaction of diners and visitors to LudoBites?
A. Ludo: We were very fortunate. People were really positive and seemed happy to just have a unique dining experience.You will have to watch the show to see if they liked the food.
Q. Gina, RealityWanted: Is this something that you would ever want to do again?
A. Ludo: Anything is possible! I loved how much I learned about America. There is a lot of history in this county that was fun to learn. I also lovised learning about the different cuisines across America. America is a big country and there is so much we have not seen yet.
Q. Gina, RealityWanted: What can fans expect out of watching Ludo Bites America?
A. Ludo: I hope people will find it both entertaining and a bit educational. We get into the local culture and I try to do something really American in each city, but keep in mind that we are opening a restaurant in a matter of days, so it is very intense. LudoBites is the same pressure for us if it is in Omaha, Denver, Mobile, Raleigh, Santa Fe, or our home of Los Angeles. People should expect to get a little glimpse into the restaurant industry and what it takes to open and operate one.
Follow Ludo @chefludo and find out what he's up to next!

Ludo Bites America premieres Tuesday, July 19th, at 9/8c on Sundance Channel.
(Image courtesy of Sundance Channel)

Follow Gina @ginascarpa and "Like" her on Facebook!