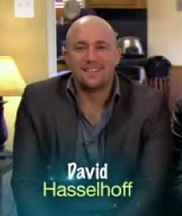 by Gina Scarpa
Next week, CBS will unveil its latest reality show, Same Name, where celebrities and regular, everyday people with the same name switch lives and experience what it's like to be them. This season, we'll be seeing Kathy Griffin, Reggie Bush, and Mike Tyson. In the premiere episode, two David Hasselhoffs will switch places - the celebrity known for Baywatch and Knight Rider and a 27 year old technician/landscaper from a small town in Texas. Today we caught up with the "real" David Hasselhoff to find out about his experience on Same Name.
Q. Gina, RealityWanted: What has life been like with the name David Hasselhoff?
A. David: It wasn't abnormal. I got a lot of nicknames, like Baywatch or Michael Knight. For the most part, it wasn't that different than anyone else.
Q. Gina, RealityWanted: How did you hear about and audition for Same Name?
A. David: They were looking for people with the same name as a celebrity and started searching. They got a hold of my mother-in-law and she got a hold of me. She called me and said, "You gotta listen to this voice mail." I'm listening and thinking this is a scam or something. I thought it was Jerry Springer or somebody trying to have a code to get me to go on stage. I was like, "I ain't callin' those people back!" There was a lot of hesitation. I enjoy my privacy. I don't wanna be recognized or harrassed. I don't think that'll be the case, though.
Q. Gina, RealityWanted: Was meeting the real David Hasselhoff a surreal experience?
A. David: Oh yeah! I knew it was going to happen but then when I actually met him for the first time, I don't know how to describe it but it was an adrenaline rush. I was surprised how tall he was and he lost a lot of weight! He is freakishly tall. He is 6'5 or something.
Q. Gina, RealityWanted: What was the best part about getting to live his life for a little while?
A. David: I don't know! The luxury, I guess. I got driven around everywhere. I know he drives a lot but I got driven by his bodyguards and his personal assistant. It was awkward, I gues. I'm not used to anything like that.
Q. Gina, RealityWanted: David grew close to your family while he lived with them.  Did that surprise you?
A. David: Yeah, before I met him, I just honestly assumed he'd be arrogant and better than everyone. He's totally awesome. I thought he was a stereotypical celebrity. He's a down to earth, very goodhearted person.  We're still keeping in touch and staying friends.
Q. Gina, RealityWanted: What do you think people will get out of watching Same Name?
A. David: The biggest thing I would like for people is to realize that I'm sure that there are celebrities with that persona but I felt horrible after getting to L.A.  I had stereotyped him and I don't wanna judge somebody before I meet them. They're people and they're normal. They came from normal roots like us.

Same Name premieres Sunday, July 24th at 9/8c on CBS.
(Image courtesy of CBS)

Follow Gina @ginascarpa and "Like" her on Facebook!