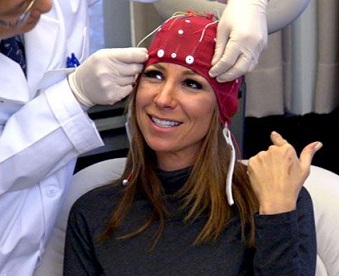 by Mike Bandy
Last night's RHONYC began with LuAnn meeting up with some totally important people to talk about her video shoot for her new song. She wants the video to be about class and elegance, which of course, comes from the soul. LuAnn was really excited about the rest of the women being in the video...except...
Ramona was talking to Sonja at the gym, and she said that she didn't want to be in LuAnn's video, because she's Avery's role model, and it's not the right message she wants to give to her daughter. There was concern because LuAnn's last video had her gyrating on a bed with men around her, and that bothered Ramona. I don't quite understand how a woman who parties constantly and guzzles pinot grigio by the gallon can think that her daughter doesn't see that! Also...if she was so concerned about sending the right message to her daughter, why did she take her to a BURLESQUE STORE?!?! Just saying...
Alex didn't want to be in the video either, because she hates LuAnn. She told Simon and his brother that LuAnn is a poser and that the video doesn't represent who she really is. She also has a big problem with the word "class", because to use it implies that you do not have it. LuAnn is condescending and rude, and Alex has a big problem with that, so she's out of the video.
Sonja, after having talked with Ramona, decided she wasn't going to be in on it either. She told Jill as much while Jill was having yet another procedure done to her head, and that pissed Jill off. Jill told Sonja that she should come down to Atlantic City just for the day to support LuAnn, and said that Ramona should be more consistent with wanting to be a role model for Avery. Hallelujah!
Speaking of Ramona, she had lunch with LuAnn to let her know that she didn't want any part of her video, and the conversation soon turned into an argument. Ramona told LuAnn that she spends a lot of time with her daughter, and she just can't be in a video that would send a bad message to her, because everybody has different parenting skills. LuAnn said that it's amazing Avery turned out as well as she has (ooh!), and then asked Ramona how well her "trifecta" with Mario and Avery was doing, as the screen flashed on Ramona's eerie psychic reading in Morocco. Ouch!
Ramona took the cake though; she told LuAnn that her marriage was great, and she can only hope that LuAnn would be married for 18 years without any infidelity. LuAnn tried to play it off and said, "Who said anything about infidelity?" Ramona said, "Well, your ex-husband...", to which the Countess stormed off. Hmm...not very classy!
In case you're counting, that's now Ramona, Sonja, and Alex out of the video, which only left the brunettes. I'm sure it's just a coincidence that this is exactly what happened in Morocco too.
Meanwhile, Sonja invited dull-as-toast Cindy over for breakfast, and Cindy had the nerve not only to bring her assistant along uninvited, but to take a conference call right there in her kitchen! Sonja wouldn't have any of that, and called her out on it, to which Cindy waived her off and asked her to stop making noise...even though the woman was making breakfast FOR her in her own house! I don't blame Sonja for going off on her - Cindy was rude! Maybe that's why she didn't even get an invite to be in LuAnn's video...
Speaking of which, LuAnn and Jill headed down to the Borgata Hotel/Casino in Atlantic City to begin filming the music video, which started in the back of a limo with the sunset in the background. LuAnn said she was sad that not everybody would be in the video, but it wouldn't ruin it. The director seemed very annoyed throughout, mostly with Jill, because she's obnoxious.
Meanwhile, Sonja, Ramona, and Mario were headed to Brooklyn (which is another country to Ramona), for a party being held at Alex and Simon's. They're on the committee for the New York Foundation for the Arts, and they were having a small benefit in their home.
Of course, Ramona got there and immediately acted like a jerk, as did Sonja, whose boob fell the hell out. While Simon was introducing himself, Mario blurted out that they can't believe that they came all the way to Brooklyn on a Friday night, which shows that he's been married to Ramona too long.
Kelly came down to the Borgata and met up with LuAnn and Jill, and she was happy to be a part of the video...but only for the day. Jill complained through most of the filming, because walking across a marble floor is so difficult. Wow, she really has changed.
Back in New York, Avery, Ramona, Alex, and Sonja were at a dance class together. They were learning how to dougie. Ramona had pretty good rhythm, Alex looked ridiculous, but also looked like she was having fun, and that was the whole point. That's all I have to say.
The final scene of the video took place at the craps table, and overall, it went well, despite Jill's complaining. Sigh. 
Next week is the finale, and it's gonna be a big one: Natalie Cole is doing a duet with Luann! Oh, and something minor about Ramona possibly being preggers. No big deal.
The Real Housewives of New York City airs Thursdays at 8/7c on Bravo.
(Image courtesy of Bravo)