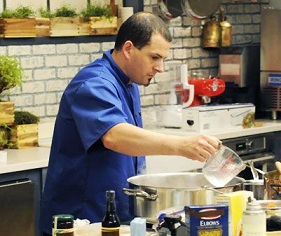 by Gina Scarpa
Last night on Rocco's Dinner Party, airline chef Corey Roberts walked out of the loft with the win and $20,000. Just about everything he served was an absolute hit with Rocco's guests and he showed us that airline food can be sophisticated and flavorful. Today, we talked to Corey in an exclusive interview about his time on Rocco's Dinner Party.
Q. Gina, RealityWanted: Can you tell us a little bit about your cooking background?
A. Corey: I was like, 11 years old and I asked Santa for a set of knives. I knew I wanted to be a chef from a very young age. I wanted to be an Olympic swimmer or a chef. I left school to take an apprenticeship and I worked four years as a full time apprentice. I did that and then I basically started working my way around the world. First, I went and worked on an oil rig for a while. That was a unique experience because I had done fine dining restaurants. I ended up going from the oil rig to a couple of hotels in Australia and found myself working on the Great Barrier Reef. Then, a cruise ship and I made my way over to the states. I did private chef work in Canada and Manhattan and then, somehow I stumbled into airline industry.
Q. Gina, RealityWanted: What made you want to do Rocco's Dinner Party?
A. Corey: I gotta tell you. I wanna do Top Chef. It's definitely a goal of mine. I feel like Top Chef and Rocco's Dinner Party are very true to chefs. I watch other cooking shows and, for example, MasterChef is not where a professional goes to cook. Hell's Kitchen... I don't feel the quality of people that go on the show are quality chefs. It felt like Rocco's Dinner Party reached out and was looking for professionals. Top Chef even more so. The problem with Top Chef is it takes a long time to be on. To secure time off from work is difficult.
Q. Gina, RealityWanted: Were you intimated by Nicole or Ayinde?
A. Corey: No, no at all.
Q. Gina, RealityWanted: I loved the mummy fried shrimp. Is that something you've done before?
A. Corey: It's something that I came up with while I was an apprentice. Slowly, bit by bit, I changed the way I've done things with it. It's not something I do for the airlines. It's very hard to fry products for an airline and then reheat it. Everything has to be cooked and chilled. But I've done it at luncheons and if I ever do a menu, they always see the mummy fried shrimp.
Q. Gina, RealityWanted: That fried cheese was a hit and looked delicious! Tell us more about that dish.
A. Corey: Using the saint marcelaine isn't a cheese that I've deep fried before. Deep fried Camembert with curent jelly is very French and was popular. I love deep fried Brie or Camembert. I did that last Thanksgiving in New York for my family and everyone was very excited about it. It's something that people haven't eaten in a long time and maybe they've forgotten what a great dish it can be. We had some great cheeses to play with.
Q. Gina, RealityWanted: What made you decide to be the first dinner party? Was it so that the diners would have a fresh palette?
A. Corey: Going first, I got first chance to impress. Everything that Nicole would do, the guests would always be comparing it to what they had with Corey. I definitely wanted first place. Even during the cooking challenge, I was already plotting in my head saying, "When you win this challenge, what are you going to do?"
Q. Gina, RealityWanted: Does winning the $20,000 help you more professionally or personally?
A. Corey: It's gonna help me personally. I'm very comfortable with my cooking career and the company that I work for and my job. I have no desire to be this chef that goes and opens his own restaurant. It may help me do some other things. I kind of dreamed of doing a cookbook a while ago and maybe I'll look to doing something towards themed dinner parties.
Q. Gina, RealityWanted: What's next for you?
A. Corey: I do plan on continuing to pursue a spot on Top Chef. I really want that spot. With the outcome of this show, I think it highlights my work and shows what I can do. I'd like to get on there and challenge them. So many people have a concept of what airline food is. There's a lot of negativity towards it. I think I can prove them wrong.

Rocco's Dinner Party airs Wednesdays at 10/9c on Bravo.
(Image courtesy of Bravo)

Follow Gina @ginascarpa and "Like" her on Facebook!