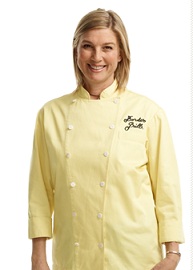 by Gina Scarpa
Last week, Floyd Cardoz walked away with the win on Top Chef Masters, but Traci Des Jardins and Mary Sue Milliken were close behind. Mary Sue's soufflé was a particular standout and hailed by some as one of the best dishes of the evening in the final challenge. Today, we spoke to the owner of the Border Grill to get her thoughts on her Top Chef Masters experience.
Q. Gina, RealityWanted: What was your main motivation for doing Top Chef Masters?
A. Mary Sue: I wanted to shine a spotlight on childhood hunger in the United States and raise much needed money and awareness for Share Our Strength's No Kid Hungry mission to end child hunger by 2015. I've been involved with Share Our Strength for over 20 years and I am passionate about ensuring that every child in America gets a fair chance. That means enough nutritious food to thrive and learn. It's totally achievable if we all demand it. It's criminal if we don't.
Q. Gina, RealityWanted: You had a rough start this season, being in the bottom three of the first four challenges. When do you feel you started to hit your stride?
A. Mary Sue: Those first few challenges were an incredible rollercoaster. But winning the elimination challenge in episode 2 with Japanese-style devilled eggs gave me some insight into just how far I could push myself. Once I calmed down and became centered, the wins fell into place. I learned that it's a bit of a confidence game. Whenever I felt confident, I did well. If I gave my evil insecure voice even an inch and started doubting myself, I did poorly.
Q. Gina, RealityWanted: Who did you view as your biggest competition this season?
A. Mary Sue: I was my worst enemy. I was very familiar with Traci's food and I've known Floyd for a long time so I was sure they'd both be formidable. But honestly, all the contestants are super talented and hard to dominate.
Q. Gina, RealityWanted: Usually, desserts are the kiss of death on Top Chef. You nailed your soufflé, though, in that final challenge! Why do Top Chefs usually have such a hard time with desserts?
A. Mary Sue: Many chefs didn't take desserts seriously in their training, but I did. I worked in a bakery for many years and learned pastries in each job I worked - even if I had to come in on my own time to learn it! I always felt that if I was going to have a restaurant, I'd need to manage the desserts and I like to be able to do whatever I'm going to ask someone else to do. Just part of my controlling nature, I guess!
Q. Gina, RealityWanted: You seemed especially excited to see Susan Feniger on the finale. Can you talk a little bit about your relationship with her?
A. Mary Sue: Susan is like a sister to me. We've been close for over 30 years, grown up together and shared successes, failures, joy and pain. Susan probably understands me as well as anyone on the planet so seeing her out there in the dining room was a big boost.
Q. Gina, RealityWanted: Both Tom and Ruth felt that your soufflé was the best of the evening. Did you feel confident going into the final panel?
A. Mary Sue: I was thrilled with all the courses I served, but especially the soufflés because the timing was so insanely difficult. I couldn't tell how the judges would react, but I was proud and felt sure it was the best food I could have cooked.
Q. Gina, RealityWanted: What's the biggest thing you're taking away from Top Chef Masters?
A. Mary Sue: That taking risks and challenging yourself is truly painful - hence, we naturally avoid it. But the rewards are HUGE, so I'm going to try and keep that top of mind for now. I also learned that my modern life is too full of distractions. I allowed myself to be totally immersed in this competition - no e-mails from work, no worries about my son's homework, etc. It was a joy to work with such focus.
Q. Gina, RealityWanted: What's next for you?
A. Mary Sue: I'm leaving soon for a mom-n-son rafting adventure in Peru with my 13 year old. We'll have to eat freeze dried food for 5 days! That will be a first for me. After that, I plan to bring that FOCUS into my daily life - at home and at work. So maybe I'll get to writing that cookbook of all my favorite personal home recipes I've been dreaming of for years and years!

(Image courtesy of Bravo)

Follow Gina @ginascarpa