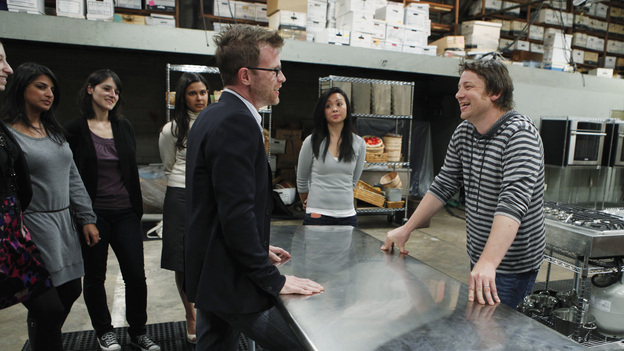 by Kristal Bailey
After his permits being revoked, he's talking to an assembly of cafeteria workers, cooks, and servers. While he can't see them working first hand, he's trying to appeal to them to get him into a school in LAUSD. One worker, Pavel, came up to speak and said that many people don't talk to him because they're afraid to look bad on TV with this TV start that is Jamie Oliver. Another worker wants him to run an ad during his show saying how they are all working hard and deserve a bit of recognition. However, he has no say over the ads, and if he did he'd make sure there would be no fast food commercials during his show. The ban is not just LAUSD now, it is 76 school districts in California now. "It's like the state of CA has sent out a memo about little Jamie Oliver."
After the talk, he spoke with Pavel one and one and in the end got an agreement that he is going to help him try to get into the kitchens in his district.
Now that he's gotten some progress with LAUSD, he's back to the family to see if they're sticking to the healthy eating they started on from his first visit. Walking up to the house, he sees a mini garden growing with tomatoes, rosemary, mint, etc. When he walked in, the Barretts had turned his original game around on him. Last time, he filled their house with a year's worth of junk; this time they filled it up with fresh fruit and veggies. They've been cooking, and Danny has even lost 16 pounds. They're having family dinners with healthy food and lovely discussion over the dining room table. "You have literally allowed me to feel good about myself," confessed Danny. This transformation is absolutely amazing and truly inspiring.
Pavel's first visit to Jamie's Kitchen may be his last. His board of directors is scared of him and won't allow him in either. They're worried about negative publicity as well. They said it's okay for Jamie to come to the school and talk to the students and workers, but no cameras are allowed. But that's not good enough for Jamie. "If it's not on camera, it doesn't exist."
The only good news right now, Jamie Oliver has been awarded the UCLA Public Health Champion Award. In his acceptance speech, he says he hasn't earned this yet. This month has been the worst of his professional career and goes into detail about the opposition he's faced from the School Board. He had a very emotional acceptance speech, with large support from the audience.
Back at Jamie's Kitchen, he's got a meeting with his producers to try to get his kitchen moved to be right next to West Adams Prep. He showed them a few clips from his emotional social studies class where students were so vulnerable and honest about their struggles with health and diet in their families. Without hesitation, his team agrees it's a great idea to move the kitchen to them since that's where they're needed most. This move was completely needed, since West LA doesn't have the same socio-economic build that Downtown does, where West Adams Prep is located. This type of health education is going to be more useful to that community.
He's got one day left on his filming permit, so he's back at West Adams Prep. The social studies class wrote him letters, in response to his health class. 1 in 4 people in Los Angeles are obese, and many of these students have finally learned the consequences of unhealthy eating after talking to those adults who have lived through the diabetes and other health problems. For his last act at West Adams Prep, he's holding a farewell assembly and cooking a healthy lunch for the entire school. He's not allowed to, but since he's already getting kicked out, then why not? He also announced to the school that the kitchen will be across the street and he'll still be doing classes, just after school when they can't be regulated. He certainly went out with a bang, that hopefully these students won't forget.
The new Jamie's Kitchen is in a warehouse just a stone's throw away from West Adams. Mike from MLA is fully committed to getting fresh food in to their schools, but LAUSD has to be in agreement before they can even go to the state to fight it. It would cost MLA $800,000 per school to change out their lunch programs. After talking about how hard it would be to change, Jamie convinces him to visit some Santa Barbara schools that have already gone through the process to have independent lunch programs.
Mike and Jamie go on a little road trip to Carpinteria, only 1.5 hours north of LA. They walked in to the kitchen and could instantly tell it was a whole different environment. It's all fresh food, cooked from scratch. 3 years ago it was a more typical, processed lunch and slowly started a shift to garden projects and healthier food. They've gotten rid of flavored milk, and this just seems like Jamie's ideal lunch program. Mike is of course concerned about the finances, but is glad to hear that 70% of the school kids are on free or reduced lunch programs. That's a very high number that makes it seem like it could be financially possible for the MLA schools in LAUSD to follow suit.
Even after recent improvements to LAUSD, it's still comparable to airplane food. Nothing is from scratch, it's all pre-cooked in warehouses and then shipped to schools to just heat up for the students. Mike wouldn't eat that food, wouldn't serve that food to his own children, so he feels pretty ashamed to serve that to the thousands of students at his schools. And watching lunch at the Carpinteria school, he noticed the fun energy and vibe that is completely missing in LA. He even said that "it's like a death walk when kids it lunch" at LAUSD schools. It was very encouraging to see this healthy lunch program working, even if it is on such a smaller scale than LA. It definitely gave Mike hope that it could work at his schools.
After seeing the lunch at Carpinteria, I wish I had had that available as an option when I was in school. I went to an LAUSD school, and I'm saying "I WANT THIS." Some progress at least is being made; they're building a garden at West Adams. This is going to be a huge step in the right direction for elimination food ignorance.
There's a glimmer of hope now that there's a new superintendent. With Ramon Cortinez out, this new addition to the board could be more responsive. Especially since the show has started airing, there is more press and buzz about Jamie Oliver's Food Revolution than ever.
Next week, the Food Revolution will be changed forever. Be sure to tune in to Jamie Oliver's Food Revolution on ABC on Friday at 9pm for the season finale.
(Image courtesy of ABC)
Follow Kristal on twitter @kristal_bailey