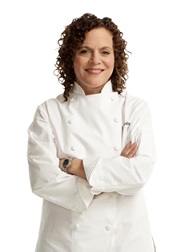 by Gina Scarpa
On the season finale of Top Chef Masters, Traci Des Jardins fought hard for the win but came up short against Floyd Cardoz. Her Duo of Duck dish (Crisp Duck Bearnaise and Braised Duck Leg Salad) went over 50/50 with judge and food critic Gael Greene. Today, we talked to Traci in an exclusive interview to get her thoughts on her final dishes, as well as her overall experience on Top Chef Masters.
Q. Gina, RealityWanted: What was your main motivation for doing Top Chef Masters?
A. Traci: Part of my job as a chef is to promote my restaurants and drive business - this is a great medium for it. I love the Top Chef brand and production and know that they are pros trying to make chefs look great!
Q. Gina, RealityWanted: Which chefs this season stuck out to you as your biggest competition?
A. Traci: That really seemed to change based on the actual challenge. I think some people's skill sets were suited for some challenges and some for others.
Q. Gina, RealityWanted: Towards the end of the season, you found yourself in the bottom group a few times. Were you worried that you wouldn't see the finale?
A. Traci: Sure. After so much effort and going so far, I did want to make it to the end. I did have a few less than comfortable moments.
Q. Gina, RealityWanted: As the winner of so many Quickfires, I have to wonder: what's your secret?
A. Traci: I am a very improvisational chef. I always have been so the medium suits me. I also think that simple seasoning is really a big part of it - acid and salt and really nailing that.
Q. Gina, RealityWanted: In the final challenge, Gael was a little tough on your duck dish. Did you agree with any of her feedback?
A. Traci: It's subjective, of course. I tasted all the duck and did not find it tough. Was it the best raw product I have ever worked with? Absolutely not, but it was my only option. I had a hard time wrapping my head around a breaded and fried duck with Bernaise sauce. It just didn't make sense to me. I've never seen the French fry a duck and I know quite a bit about French cooking.
Q. Gina, RealityWanted: What do you think of Floyd's win?
A. Traci: Floyd is a great chef, classically trained with a lot of experience. If I had bet in the beginning who would be in the final, he would have been at the top of the list. I am happy for him. I adore him.
Q. Gina, RealityWanted: What's the biggest thing you're taking away from Top Chef Masters?
A. Traci: Some really great friendships and to remember to have fun with whatever you are doing. Don't take it all too seriously!
Q. Gina, RealityWanted: What's next for you?
A. Traci: I'm working on a book proposal, keeping my restaurants flying, and trying to keep having fun and spend time with those that I love.

(Image courtesy of Bravo)

Follow Gina @ginascarpa