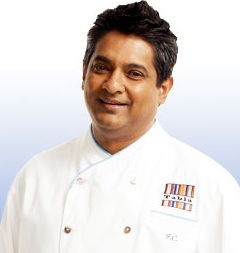 by Gina Scarpa
On the season finale of Top Chef Masters, Floyd Cardoz took home the win, beating Mary Sue Milliken and Traci Des Jardins. He not only performed consistently well throughout the competition, but stayed true to himself along the way. Today, we caught up with him in an exclusive interview to talk about his experiences on the show and what winning means to him, both personally and professionally.
Q. Gina, RealityWanted: What made you decide to do Top Chef Masters? Did you watch the previous seasons?
A. Floyd: I watched a couple of episodes from previous seasons. I didn't watch entire seasons. I had always wanted to go on Top Chef as a judge but never had the opportunity to. They asked me to participate on Top Chef but I was an established chef. When they asked me to do Top Chef Masters, it seemed like a good thing to do.
Q. Gina, RealityWanted: You performed pretty consistently this season. What was your best moment, do you feel, outside of the finale?
A. Floyd: Oh boy! I think the second to last episode, with the servicemen, showed who I truly am. I'm a person who is very passionate about what I do and when I cook, I love to put a lot of myself in my food and cook it from a happy place.
Q. Gina, RealityWanted: On last night's episode, you got stuck in some serious traffic. Were you worried that you were going to lose the competition because you were behind?
A. Floyd: You know, until I got into the kitchen, I was very worried. We were so backed up and didn't have enough time. Once I started cooking and got into the dishes I was making, I guess the adrenaline took over and I kept on cooking the way I normally do. If you don't cook from a happy place, it will never taste good. It'll be a runaway train that'll be a disaster. I didn't want that to happen.
Q. Gina, RealityWanted: Were you familiar with making rendang, the dish that James Oseland asked you to make?
A. Floyd: Never made it before and never eaten it before! I was nervous, I was afraid. When he started describing it and I strated getting more stuff from him, I started to understand what it was about. I knew I could pull something off. It's fom Southeast Asian and I understand those flavors. The other thing that I was definitely going to do was use oxtail and short ribs, which braise really, really well.
Q. Gina, RealityWanted: Going into the final panel, how confident were you feeling about winning?
A. Floyd: I never did think about winning at all. Obviously, I wanted to! I'd say I gave my chance like a 33% chance before I started cooking. I started feeling more and more confident, though.
Q. Gina, RealityWanted: What does winning Top Chef Masters mean to you, both personally and professionally?
A. Floyd: Personally, it feels good because I stayed true to who I am. I continued to cook with passion, cared for people, and helped people around the kitchen. I didn't go out of myself to try to win the competition. I felt good that I was true to myself. Professionally, to be in the same category as Rick Bayless and Marcus Samuelsson is cool.
Q. Gina, RealityWanted: What's next for you?
A. Floyd: At the end of this month, I have been given the opportunity to go to Japan and cook for the victims of the earthquake. I'm going with some New York chefs to cook for 1,000 people in Northern Japan. I'm so glad I have this opportunity to give back to the people of Japan. Fans can keep in touch with me on my Facebook page. It's a great way to see what I'm up to. I'm hoping to do another book at some point and I'm planning to open a restaurant.
(Image courtesy of Bravo)

Follow Gina @ginascarpa and "Like" her on Facebook!