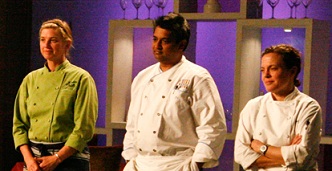 by Gina Scarpa
Only Mary Sue, Traci, and Floyd remain in the competition on Top Chef Masters but at the end of the hour, one will walk away a winner. Getting there won't be easy though, as Curtis Stone delivers their final challenge: Create a three course meal of a lifetime.
The first course should be inspired by a food memory, and the second course should be based on the experience that made them decide to become a chef. The third course (as decided by a knife pull) pairs the contestants up with members of the panel for critics' choice.
James requests a traditional Indonesian dish from Floyd, Ruth asks for a lemon souffle (yikes) from Mary Sue, and Gael goes all out and requests fried duck from Traci.
Mary Sue bases her dish on seeing her mentor, who recently passed away, create a shrimp cocktail in seconds. Traci goes on about fabulous French food she had as a teenager, driving home the point that she's well traveled and cultured. We got it. Floyd's memory is simple - a fish dish that he remembers eating with his father.
The chefs are allowed to shop wherever they want, besides Whole Foods, and that takes Floyd all over the city to get the ingredients he wants and needs. Unfortunately for him, traffic is an absolutely atrocity and he finds himself losing precious prep time while stuck in a car. To make matters worse, when he finally does get back, his fish is a hot mess.
The crowd of diners for the final challenge are full of intimidating people, including Jonathan Waxman, Rick Moonen, Susan Feniger, and Tom Colicchio. Random story about Susan... she was once married to Mary Sue's husband. They all seem okay with it, though. After all, Susan introduced them!
First Course
Floyd: Wild Mushroom Upma Polenta with Kokum and Coconut Milk
Mary Sue: Asian Steak Tartare
Traci: Shrimp Creole
Second Course
Floyd: Rice Flaked Snapper and Tomato-Fennel Broth with Carrots
Mary Sue: Shrimp and Chervil Mousse Stuffed Rigatoni, Crab and Shrimp Salpicon
Traci: Roasted Quail Salad with Sweetbreads, Mushrooms, and Pancetta
Third Course
Floyd: Rendang 2 Ways - Oxtail and Short Ribs, Tapioca Pilaf with Diced Potato and Peanuts
Mary Sue: Lemon Souffle with Rhubarb Compote, Lemon Hazelnut Meringue, and Ice Cream
Traci: Duo of Duck - Crisp Duck Bearnaise and Braised Duck Leg Salad
Traci takes a hit when Gael compliments her Bearnaise sauce but says the duck did not satisfy her memory. If Gael had had that dish back when she was first writing, she said she never would've become a food writer at all. Ouch. James feels that Floyd nailed the Rendang and can tell it was cooked with a lot of heart. Ruth thinks that Mary Sue's souffle was the best dish of the evening, which seems promising.
After much deliberation, Curtis reveals that the winner of Top Chef Masters is... Floyd!  Talk about a guy who overcame obstacles in the final leg!  His $100,000 prize will go towards cancer research.  Congrats Floyd!

Don't miss our exclusive interviews with all three finalists from Top Chef Masters on RealityWanted!
(Image courtesy of Bravo)
Follow Gina @ginascarpa