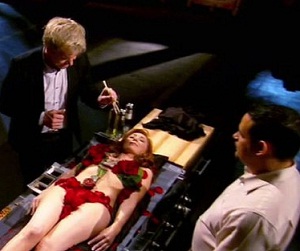 by Todd Betzold
Chef Gordon Ramsay is back for season two, as he and fellow judges Graham Elliot and Joe Bastianich return to find America's next MasterChef.
With a $250,000 price on the line, 100 home-cooks are brought in after auditioning throughout the country to cook one plate for the three judges. They have one hour to create a signature dish worthy of an apron and then get five minutes to prep the plate once they are in front of the judges. They need two of the three judges to say yes in order to receive that apron.
Up first, we get to see the former beauty queen Jennifer who makes her plates just like herself...spicy. The former Miss Delaware claims to just be a boy with boobs that likes to wear makeup and high heels. She cooks up a coconut curry lentil soup garnished with some spicy shrimp. After Chef Ramsay compliments her for sounding like a real chef as she described her plate, he tastes it and is turned off by the carrots in it and walks away swearing. Graham, however, loves it and votes yes. Joe says it has a consistency failure and votes no. After some selling of herself to Gordon, he states she has a lot of determination and votes yes. Former Miss Delaware...come get your apron.
We then get to enjoy some of the crazy/bad auditions, as they highlight some of the chefs that didn't make it through, including a guy Chef Ramsay makes do pushups, only to turn him down!
Albert, the truck driver from Mississippi, comes out and saves the day. The hillbilly, through-and-through, makes a Triple Tail 'Gator, which is a jambalaya with alligator and sausage. After showing the tattoo on his butt to the judges and then washing his hands, Albert gets back to presenting his plate. The judges all go up and taste with no comment, including Joe who was having his first experience eating a reptile.
Chef Ramsay thought Albert was an overgrown mess and Joe thought it was all a joke, but then he tasted it and thought it was delicious. Chef Ramsay said Albert delivered and that he surprised them all. Three votes and all yeses...the hillbilly moves on with an apron.
Some more entertaining bad auditions and an almost yes for a Boston firefighter, but Chef Ramsay told him to continue to cook for the next 12 months and he will guarantee him a spot in it next year!
Monica, the pianist from New York who never has had a recipe, but goes by taste, is up next. She claims to be her worst critic, as she dishes up Bibimbap, which consists of Korean-style vegetables with rice and fried egg. After positive comments from all the judges, Monica receives three resounding yes votes and moves on with apron in hand.
We get to see quick auditions from Aaron, Kayla and Elyn, as they all receive yes votes and move on to the next round.
The next contestant comes out and scares off all the judges with her final ingredient, white truffle oil, as Chef Ramsay said she just put her apron up in flames. Judges taste it and they all thought it was a good dish, but the truffle oil ruined it for them. Chef Ramsay says no...Graham asks if she learns from her mistakes and she says yes, so he gives her a shot...Joe calls her over and tells her she has made it through! Another apron handed out.
We get another quick look at three different chefs, as we get the woman coming out swearing her way through audition, girl rapping her way through it and another woman singing her way through it. Rapper and singer get cut, but after some pleading to Chef Ramsay, he decides to give the cusser, Angel (ironic name some might say) an apron.
Christian, the event planner from Las Vegas, comes in with a woman as he prepared body sushi as his plate. The woman strips down to nothing and lies on table and he proceeds to place the sushi on her. Judges eat the sushi off of her, yet in the end they say it is a food competition and it is three no votes.
After some lame auditions, Pauline, the woman from Scotland, comes in to make Chef Ramsay homesick. Pauline makes a traditional Scottish dish of salmon and haggis en croute with whisky and dill sauce. Joe, having never had haggis before, didn't like the dish and votes no for her. Graham loved the flavor of the sauce and gives her a yes vote. Chef Ramsay said she is brave for being haggis to L.A., but he still loved it and votes yes, as she receives an apron and a chance to move on.
Save the best for last? The last audition of the night goes to Christian, the stay-at-home dad from Massachusetts, who comes out making "Shipwreck Stew" with lobster, shrimp and assorted shellfish. Tastes from Joe and Graham bring no comments. Chef Ramsay tastes a couple times, then states it is intense and packed with a lot of flavor, just like Christian. Joe said, "That's the kind of dish that wins competitions." All three judges vote yes and ladies and gentlemen, we have our first frontrunner of the competition.
After one night of auditions, we see 10 contestants receive an apron and move on to the next round and one step closer to that $250,000.
MasterChef continues with auditions on Tuesday at 8/7c on Fox.
(Image courtesy of Fox)
Follow Todd @tbetzold