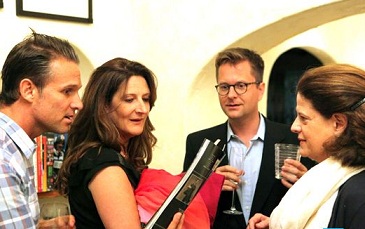 by Todd Betzold
Following the lives of five Los Angeles-based interior designers, Million Dollar Decorators takes us into all the drama, stress and tension of the high-end interior design world.
We start out by meeting one of the first designers, Mary McDonald. This is the start of us being able to see how high-end the world is that they are designing for. Mary states she is known for her glamorous designs, but "I'm not stuck to glamour, but I think that it's kinda stuck to me." She admits she is eccentric and cocky and she could easily spend $5 million designing a house.
Martyn Lawrence Bullard is the next designer who came to L.A. thinking he was going to be a star and is now an interior design star. He admits he can't take on jobs of less than a $1 million budget. His clientele ranges from Sir Elton John to Cher and is currently working on Sharon and Ozzy Osbourne's new Hollywood apartment. Martyn says he tries not to be too much of a diva, although there is a diva side to him, which we see later in the episode.
Next we meet Kathryn Ireland, whose most important things in life are food, sex and decorating. A mother of three boys, Oscar - 21, Otis - 18 and Louis - 17, she states there is one thing her clients have in common...they're all rich. She is a soft and tragic mother, whose rebellious boys don't do what she asks of them.
Mary is first to meet with a client, Kendra, whose husband is an hotelier. She has done work for Kendra in the past and feels that their home is her own home. Everything is top-of-the-line in the home and they are looking to spice up a couple rooms in the house.
We go back to Martyn, who now has heard from Sharon Osbourne and she needs the apartment to be done in three days, compared to the two weeks he thought he had left. The planning and chaos is only just beginning.
We meet our fourth designer, Nathan Turner, whose heart of his business is his high-end retail store. He states, "Not everyone can afford it, but you can come in and enjoy it." He worked for an antique dealer in the past and fell in love with the whole business, which led him into interior design.
Lastly, we meet Jeffrey Alan Marks, whose clients are the money that makes California tick. He feels, "You should always decorate a room and have one thing in it that's an accident." He lives and works with his boyfriend, Ross, of four years. Ross was a model before working with Jeffrey and you can tell this relationship is going to cause some major drama for the show as it continues.
The major happenings of this show are with Martyn as he tries to finish the Osbourne apartment in three days. Painters arrive late...they say they need five days to complete it...he only has three days and needs them there now. Amanda, his senior design assistant, gets on the phone and gets 10 painters there the next morning to complete it in one day.
After we see Martyn out shopping for all the accessories, furniture, art and so on, we finally get to day three and the breakdown and stress of having only a few hours to complete it...the diva in him comes out! He does get it put together and Sharon arrives to look at it and falls in love, so much so that she claims she is "gonna pee" herself.
Mary gets a call from Kendra wanting to meet with her. Kendra sounds concerned, so that in turn freaks out Mary. Mary gets to Kendra's house to be told that Kendra and her husband are getting a divorce and selling the house. Mary, being the dramatic designer that she is, says this is a "total tragedy cause it's my house." She will still get to redo the rooms before it sells, but Kendra says the realtor wants it minimal, but of course Mary doesn't care and claims she is going to do what she wants...drama to come in future episodes.
Kathryn's birthday is happening and she is having a dinner party, cooked by her sons, with her friends, which just happens to be all the designers on this show. Martyn calls to say he can't make it because of his need to get Sharon's place done. All the other designers are there and it's one big love fest, for this first episode, but will it continue throughout the season?
Million Dollar Decorators airs Tuesdays at 10/9c on Bravo.
(Image courtesy of Bravo)
Follow Todd @tbetzold